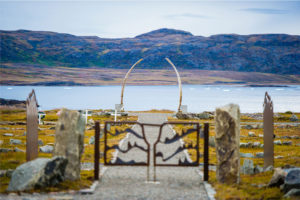 The Iqaluit Municipal Cemetery in Nunavut is the recipient of the American Society of Landscape Architects (ASLA) 2018 Professional Awards under the general design category.
Designed by Vancouver-based LEES+Associates for the City of Iqaluit, the cemetery has transformed the community's perception of what a cemetery can and should be. A strong geometry of pathways, visible even under the snow, leads to a ceremonial gathering space framed by an arch of bowhead whale jaw bones. Striking but simple forms honour indigenous traditions, using a juxtaposition of natural materials and artifacts.
The awards jury said in a statement, "The power of the place is extraordinary, and the decision to keep it simple and subdued is brilliant. The place honours the community's ancestors. There are certain times when you are working with a landscape that is so beautiful, the best thing to do is as little as possible."
The ASLA awards recognize the best of landscape architecture in the general design, analysis and planning, communications, research, and residential design categories.
ASLA also announced the 2018 Student Awards winners. Selected from 332 entries representing 17 schools, the awards honour the top work of landscape architecture students around the world. "In Between Walls" by Niloufar Makaremi Esfarjani, a student at University of Toronto (U of T), won the Award of Excellence in the general design category. Based on the physics of dust storms, and with the threefold objective of ecological improvement, cultural reconnection, and a diplomatic gesture, Esfarjani's thesis proposes implementing an armature in the landscape: a series of strategically located walls that takes advantage of natural forces around Hamoun Lake in Central Asia.
In the analysis and planning category, four submissions from the U of T won Honor Awards. They are: