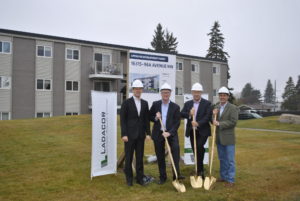 The first rental housing development in the Edmonton area to implement a modular building strategy incorporating repurposed shipping containers will be Westgate Manor, an apartment rental agency in the village of Glenwood. Despite being new to Edmonton itself, the strategy has already been successfully implemented in a location northeast of the city, a four-storey hotel in Bruderheim.
This building strategy relies on the use of surplus sea shipping containers, and has been utilized effectively in applications such as multi-family, student, seniors, and First Nations housing. The system is mould-resistant, reusable, and environmentally sustainable.
The factory-finished shipping container modules are intended to be used in multi-storey buildings. At Westgate Manor, they will be employed to complete an infill addition in 20 rental housing units, ranging in size from one- to two-bedroom apartments. Each of these units also features a balcony or patio and in-suite laundry. The addition will be performed by Step Ahead Properties, which is looking into performing similar developments in the area in the future.
Construction for the project has already begun—a launch ceremony took place last month. A building permit has also been obtained, and occupancy is expected to be possible as of next summer. The shipping container modules comply with the National Building Code of Canada (NBC), and with Canadian Standards Association (CSA) standards—in particular, CSA A277-16, Procedure for Certification of Prefabricated Buildings, Modules, and Panels.
The modules are constructed offsite and can be delivered in a single trip, meaning construction speed and cost-effectiveness can be maximized while disturbances to existing tenants are minimized. Additionally, they are made of non-combustible steel, which should enhance safety capabilities, and are strong insulators of sound. Once at the site, they can be placed using cranes.