by Andrew Peel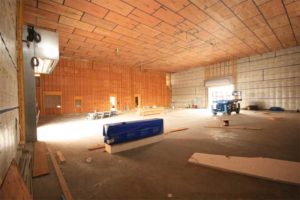 The world's first Passive House car dealership is now nearing completion in Red Deer, Alta. Designed by Cover Architectural Collaborative and Sublime Design, this 1540-m2 (16,600-sf) facility will house a new Scott Subaru dealership.
Most, if not all, large car manufacturers have strict corporate standards regarding esthetics, layout, and service requirements, and Subaru is no exception. Adding to these baseline requirements was a desire to pursue Passive House certification. However, such efforts must not compromise customer or vehicle service. Another major factor impacting facility design was the local winter temperature of –29 C (–20 F). Navigating these requirements proved challenging and demanded the best of the design team.
Base design
The building is divided into three main zones:
showroom;
repair shop; and
car drop-off area.
The showroom includes a car display area, customer reception and lounge, and sales offices on the first floor, as well as back offices, meeting rooms, and a staff kitchen on the second floor. The repair shop comprises a ground floor with six service bays and parts storage and a second floor with mezzanine, storage, and catwalk. The drop-off zone is a single-storey area used to collect customers' cars for repair and show off new cars housed in the parking lot to customers at night and during periods of
inclement weather.
Enclosure
Numerous considerations had to be made to meet passive House standards when designing the enclosure.
Opaque components
The base design of a typical car dealership is ideal for Passive House as it is inherently very compact with a favourable form factor. The better the form factor (i.e. volume to heat loss area), the less heat loss for the same useable space. While there were some design challenges, the main opaque envelope was straightforward. It is a timber-framed construction with:
305-mm (12-in.) studs;
76-mm (3-in.) exterior insulation and interior service cavity;
305-mm below-slab floor insulation;
305-mm insulated footings; and
cellulose-filled, open-web wood truss roofs.
The R-values are R-68 for walls, R-53 for floors, and R-100 for the roof.

Control the content you see on ConstructionCanada.net!
Learn More.