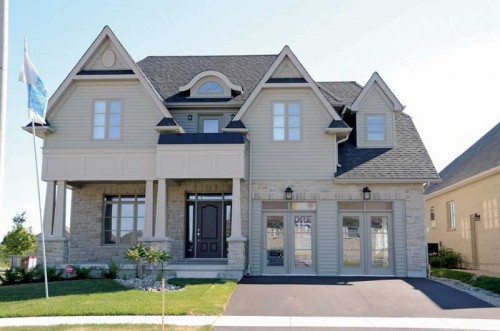 By Janelle Day, B. Arch. Sc.
The Canadian government recently suggested energy efficiency is an important tool for addressing climate change, promoting economic activity, and supporting energy security. (See the Natural Resources Canada (NRCan) report, "Government of Canada Recognizes Energy Star Leaders," from June  2010. For more information, visit www.nrcan.gc.ca/media-room/news-release/37/2010-06/1435). Further, it says Canada will aim to reduce greenhouse gas (GHG) emissions by 17 per cent below 2005 levels by 2020. Since 2006, the federal government has invested close to $10 billion in an effort to reduce GHG emissions; this is being reflected through investments in green infrastructure, energy efficiency, and the building industry.
New energy efficiency provisions for housing and buildings are included in the updated National Building Code of Canada (NBC). Scheduled to be released in the spring, it will continue to change the way we build in Canada. As this push for energy efficiency continues to grow, builders are looking for new innovative systems to help them meet the code's new requirements and to reach beyond to higher voluntary energy efficiency levels of the next-generation Energy Star and R-2000 standards.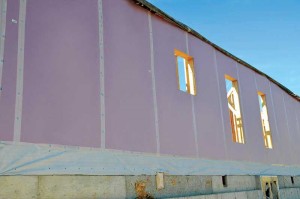 Integrating the air barrier system
Builders have begun exploring systems that use exterior insulated sheathings (EIS) in wall assemblies to help them achieve higher levels of energy efficiency. When properly detailed, EIS becomes a part of an air barrier system that can effectively reduce air passage. An air barrier system controls the amount of air moving through the building envelope either inward or outward. To provide this control, the air barrier system must block all leakage openings and extend across intersections where interior walls meet an exterior wall, ceiling, floor, or roof.
To be effective, an air barrier system must:
satisfy several requirements;
be continuous;
have sufficient structural strength to resist wind loads;
be constructed using materials and components that are airtight; and
be durable to last at least as long as the building.
New code requirements also demand all tape and caulking be compatible with the primary air barrier component. If an air barrier system does not meet these requirements, then the building may experience:
moisture damage;
cold drafts;
high energy bills; and
gradual deterioration over time.
EIS, together with gasketing and tape, has been shown to create an effective air barrier system, thereby avoiding these issues. Some of these innovative systems have also been evaluated by Canadian Construction Materials Centre (CCMC) and carry a listing and report attesting to system performance and durability.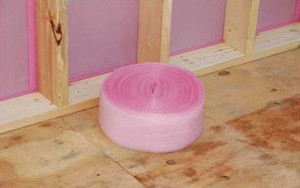 How it works
With an exterior insulating air barrier sheathing (EIAS) system, the sheathing is applied to part of the outside of the building frame, using conventional and readily available construction products (i.e. gasketing and tape) to control air leakage. It uses a compression-type seal to achieve extraordinary levels of airtightness and durability. However, the real innovation of this system is its ability to fulfil multiple functions within the wall assembly. The system saves energy because it controls heat loss by insulating and reducing thermal bridging. It also lowers the potential for condensation caused by air leakage, and minimizes potential for moisture damage by controlling ingress of outdoor wind and rain into the wall assembly. This type of system is best suited for the low-rise residential market as it can replace conventionally used sheathing components to maximize performance.
Planning the air barrier system's installation is an important first step that should never be forgotten when building. Considering the details before construction enables the work to go smoother and the quality of construction and productivity to improve. One should always consider the relationship of construction sequence to the air barrier system details. Minor adjustments to the construction sequence can significantly simplify air barrier system installation. Planning should consider:
installation of all panel joints and gaskets;
construction of outside corners to avoid using scaffolding; and
construction of inside corners to allow proper sealing.
When using any type of system, mishaps and errors happen. However, there are easy ways to correct them to maintain air barrier continuity and control air leakage with an EIAS system. Penetrations through the air barrier system have to be sealed to ensure optimal system and wall assembly performance. With this type of air barrier, it is not necessary to seal the interior polyethylene wall vapour barrier to make it airtight. The required continuity of the air barrier plane is achieved on the exterior side of the wall with the sheathing and components. The polyethylene on the interior side in this instance only acts as a vapour barrier and need not be sealed.

Control the content you see on ConstructionCanada.net!
Learn More.