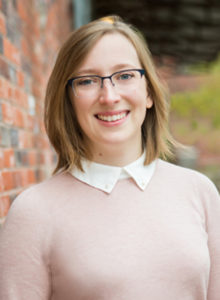 Samantha Menard, manager with EQ Building Performance's energy team, is the recipient of the 2020 Emerging Green Leader Award from the Canada Green Building Council (CaGBC).
The Emerging Green Leader Award recognizes a deserving student or young professional who has made a significant contribution to advocating, educating, or practicing green building, and community development.
"Being named as Emerging Green Leader has been a huge honour," said Menard. "With every project I work on, I want to do all I can to improve the project by helping the client and design team make the best building they can. It can be difficult to see the impact of your work when you are constantly working on deadlines and new opportunities, but this award has allowed me to step back and see that my hard work is making a difference on a larger scale."
Menard began her career in buildings by studying architecture with a focus on building science at Ryerson University, she told CaGBC.
"As I studied, I found myself most drawn to not just designing buildings, but in making them better. After school I began energy modelling for building code and [Leadership in Energy and Environmental Design] LEED compliance," she said. "This exposure to LEED allowed me to expand my role into sustainability consulting as well. I have tried to take every opportunity offered to me, from conferences to volunteering for a local [International Building Performance Simulation Association] IBPSA chapter, to grow my knowledge and network whenever possible. As I gained more experience, I began taking on more responsibility on my projects, eventually working my way to my current role leading the energy team at EQ."