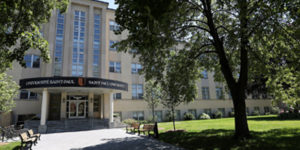 Ottawa's Saint Paul University has received significant funding for the renovation of Guigues Hall, to improve social and academic experiences for Franco-Ontarian students.
The Government of Canada is investing more than $3.4 million over three years for the project, while the Government of Ontario is providing support through the Canada-Ontario Agreement on Minority-Language Education and Second-Language Instruction (2020–2021 to 2022–2023). The university is also contributing $3.4 million over two years.
The renovation project has the following objectives:
To create collaborative zones, state-of-the-art teaching spaces, and a "social campus" with multiple informal social spaces
To consolidate academic offices and student services
To improve learning spaces, workspaces, and the overall quality of the building
To reduce the university's energy footprint
The investments are in addition to more than $1 million in funding announced in March 2020 to renovate Guigues Hall's auditorium. Modernizing its facilities will help the university continue offering its students a quality education in French and ensure the vitality of Franco-Ontarian culture.