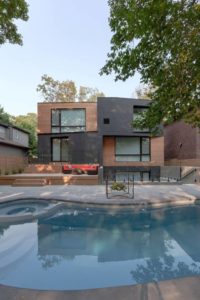 Out(side) In House, located near Toronto's Scarborough Bluffs, offers a void that leads the inhabitants to see a panoramic horizon of Lake Ontario.
The house is broken indentedly at its center into two volumes which are pulled apart and shuffled, so the breakages face the outside and the exterior walls face the central void. In this double-height atrium, natural light falls from the sky through a series of stepped clearstories, oriented to south (towards the lake) and north.
At the southern end stands the hearth or the fireplace with a sunken ground as the gathering place; at the northern end, a triple-height light shaft travels from the skylight all the way down to the basement, where a large planter suggests the possibility of a tall tree growing.
Circulating between rooms, one is always abrupted by a raised platform of the atrium and the suspended bridge on the second floor.
Located on the second floor, across the bridge over the atrium, at the end of the long corridor, adjacent to the master bedroom—the farthest place from the entry—the cocoon is a dark, quiet, small, confined space. Covered in fabric on all surfaces, the room is surreal visually, tactilely, and acoustically.