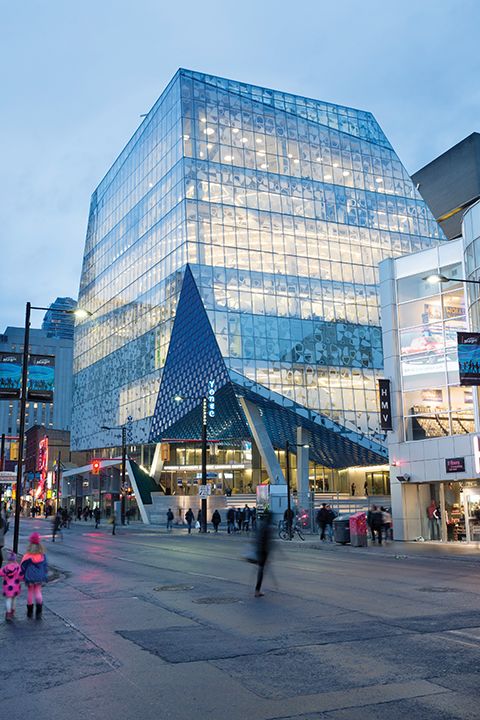 The Society of Façade Engineering has awarded Ryerson University's Student Learning Centre in Toronto with a Façade of the Year for 2015 award in the new building category.
"Based upon the simple premise of the competition, which is to recognize excellence in façade design and engineering as a specialist discipline, this year's competition fulfilled those objectives with exciting entries from around the world," said Chris Macey, chair of the award judges. "The judges believe the winners have significantly raised the bar in terms of imagination, execution, and vision with some exciting projects that are world class by any standards."
Ryerson employed a number of unique and new technologies in the completion of a complex geometric building envelope and its application to complex structures. Laser scans of the structure were taken and combined with a building information model (BIM) that allowed the automation of all the other design information needed for the manufacturer. Photos of the envelope demonstrate how technology in the future might simplify the whole delivery process of major buildings eradicating the risk of out of tolerance structure. It is an example of a completed building using new technology.
The Student Learning Centre won alongside London, England's Guys Hospital Tower in the refurbishment category and Whitchurch, United Kingdom's Bombay Sapphire Distillery in the innovation category.
For a deeper look at the centre's eye-catching glazing, see our article on digital printing and its role in the building.
To learn more on the awards, click here.