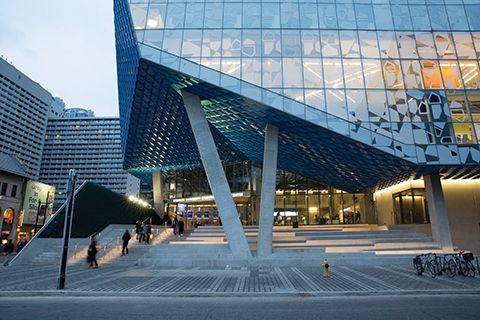 By Brian Savage
As the demand for new and different design elements in the Canadian construction market continues to grow, digital printing on architectural glass is one element that can be ideal for adding a distinctive touch to projects. Multiple colours, versatility, and potential cost savings are just a few of the benefits available with this process.
Digital printing lends itself well to both interior designs and exterior façades for both functional purposes as well as artistic purposes. In fact, more than 50 Canadian municipalities have public arts programs and policies in place, and there have been multiple projects sponsored by these programs that integrate digital imaging into their final design.
Previously, when architects wanted to add printed design elements to the glass skin or the interior of a building, they were limited to processes like one or two-colour silk-screening or digital prints with difficult-to-use and organic-based inks. Ceramic-based inks have now transformed digital printing, resulting in a much more controllable process with a durable, long-lasting, and colourful print. The current generation of digital printers gives the designer the opportunity to turn what was once just the functional façade of a building into a decorative canvas. The use of digital printing also provides the opportunity to optimize design, colour, and solar performance for façades.
For example, the new Centre hospitalier de l'université de Montréal (CannonDesign) will have 13 works of public art incorporated into the final design. The largest of these is a 2610-m2 (28,100-sf) digital print designed by artists Simon Rivest and Mathieu Doyon, made of up five mountains spanning eight floors formed by digitally printing approximately 15,000 individual starburst-shaped elements in multiple colours.
One of the largest public arts installations ever in the city of Montréal, Rivest and Doyon worked closely with the glazing subcontractor (Gamma) and glass fabricator to ensure their vision and design intent was met while still providing the high-performance glazing required on this project—dual-insulating and triple-insulating glass with the digital printing and a low-emissivity (low-e) coating both on Surface #2.
The basics of digital printing
There are differing types of digital printing processes available for the architectural glass market, with the two main differences being the types of ink used and how the machine transfers it onto the glass substrate. This article focuses mainly on inkjet-style printers that use drop-on-demand technology.
Inkjet-style printers utilize a programmable print head that travels back and forth just above the substrate where the image is being applied. Each colour of ink has its own grouping of nozzles on the print head that are individually activated and drop the ink onto the glass substrate in the proper location—hence the name 'drop on demand.'
Most digital printers specializing in architectural glass are capable of printing in resolutions up to 720 dots per inch (dpi). There is generally a per-square-metre upcharge for digital printing over and above the per-square-metre charge for a glass unit. Additionally, there may be added fees if further work is performed by the glass fabricator, such as prepress adjustments to the electronic design file. Understanding the fabricator's requirements and capabilities early in the design process can help minimize these added fees.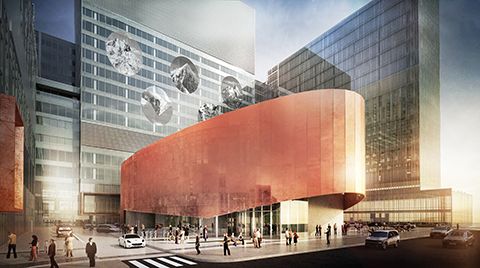 The flexibility of digital printing means it can be used monolithically or included in laminated and insulating glass (IG) units. It can also be used in combination with interlayers and have solar control coatings applied directly over the digital print resulting in improved solar performance. Digitally printed glass can be used in many different areas of a building, including exterior façades, interior dividing walls, signage, and office walls.
With the use of specialized Surface #1 inks, digital printing can be applied to the exterior of a piece of glass. Some areas where Surface #1 inks can be useful are in bird-friendly applications or adding an element of depth to a building. However, these inks are limited in colour to black, white, and grey hues, which may limit design flexibility.
The versatility and resolution capability of ceramic ink means many different types of images can be printed, including photorealistic images, text, variable graphics, and patterns. Additionally, visual textures similar to wood grain, granite, and marble can be produced with excellent results. Both the transparency and opacity of the print are also controllable.
Digitally printed glass can be cleaned and cared for in the same manner that other ceramic frit coated glass is maintained. As a general rule, if it harms the glass, it will harm the print. However, in most applications, it will be permanently protected in an insulating or laminated unit.
A striking example can be found with the approximately 18-m (60-ft) tall El Paso Clock Tower (designed by Populous) at Southwest University Park. The colourful artistic glass window depicts more than 800 years of the Texan city's diverse history. Artist Roberto Davidoff's creation, with work by glazing contractor Signature Architectural Elements, includes many vivid colours digitally printed on the monolithic and laminated glass's Surface #2. The piece is viewable from both the exterior of the stadium and from the staircase within the clock tower. A clock-face was also printed on Surface #2 and then fabricated into a laminated unit to complete the installation.

Control the content you see on ConstructionCanada.net!
Learn More.