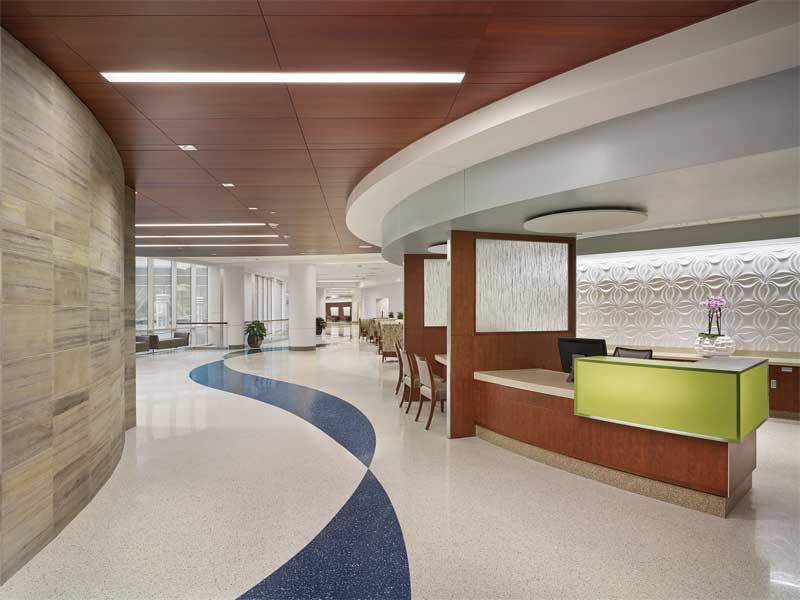 Public spaces
Lobbies and waiting areas also play an important role in healthcare settings because they can help alleviate the stress and anxiety known to accompany a hospital visit or stay. A facility's main lobby can set the tone for the entire design theme and personality of a building. Patients and visitors alike want to feel at ease from the moment they enter.
The addition of a wood or wood-look ceiling to a lobby or waiting area imparts a warm, comforting ambiance to the space. Wood ceilings are available in a variety of shapes, sizes, and finishes. In addition, the panels can be perforated and backed with an acoustical fleece to help lower noise levels and create a calmer environment. Perforations vary in size depending on esthetic appeal.
Other acoustical ceiling design opportunities for public spaces include metal ceilings and 'free-floating' clouds and canopies. Metal ceilings impart a very high-tech or sophisticated look to a space and can also be perforated for acoustical performance. Perforations vary in size, although it is possible today to have extra microperforated panels in which the holes are so small, they are virtually invisible. Metal ceilings with finishes resembling real wood are also offered.
Discontinuous ceilings
Acoustical clouds, canopies, baffles, and vertical elements combine an esthetically pleasing visual with sound-absorbing properties by providing good sound absorption in the space below them. Their ability to reduce reverberation makes them ideal for use over spaces such as reception areas and registration desks.
As spot acoustical treatments, but used in 20 to 50 per cent of the space, they can actually provide more sound absorption per unit area than a continuous ceiling because sound is absorbed on both their front and back surfaces.
Acoustical clouds are different in size and look compared to acoustical canopies and vertical panels. Visually, acoustical clouds are flat and horizontal, while canopies are curved and can be installed as hills or valleys. Baffles and other vertical elements come in a variety of shapes and sizes.
Conclusion
The abundant research compiled over recent years shows the dramatic impact of noise and inadequate privacy in the healthcare environment. As a result, the importance of good acoustics in the design and operation of healthcare facilities continues to grow.
A proper acoustical environment has shown to improve patient sleep, increase patient satisfaction and confidentiality, improve the healing environment, reduce staff stress, and improve speech intelligibility among staff members. With thoughtful design comes a positive patient and staff outcome, returning dividends patient after patient.
SOUND-ABSORBING PANELS
To demonstrate the effect sound-absorbing materials can have on lowering noise levels, researchers at Johns Hopkins Hospital conducted a study using one of the facility's hematological oncology units.* The space has hard-surfaced floors, walls, and ceilings—no sound-absorbing materials are anywhere in the unit. The centre of the unit houses the nurses' station and service rooms, while patient rooms are located on the outside of the unit.

The nursing staff mentioned that any conversation at the nurses' station was audible throughout the unit. Acoustical measurements showed the noise level was 55 dBA with a reverberation time of 1.1 seconds.

To help control noise within the unit, sound-absorbing panels were installed high on the corridors' walls and on half of the corridors' ceiling areas. An immediate impact of the sound-absorbing panels and their sound-reducing properties was to permit patients, staff, and visitors to lower the level of their speech while still being understood. Additionally, the reverberation time dropped to 0.4 seconds, a reduction of 64 per cent.

The study also notes an important measure of the effectiveness of noise control in a hospital setting is the perception of patients and staff regarding the noisiness of the unit. To determine staff and patient perceptions, the Johns Hopkins researchers also conducted a short survey before and after the acoustical intervention.

Prior to panel installation, nearly two-thirds of the patients and staff viewed the unit as noisy, with the majority of patients viewing it as very noisy. After installation of the panels, more than 90 per cent of the staff and patients viewed the unit as quiet or very quiet.

The study suggests new hospital buildings, particularly those with in-patient units, would do well to incorporate sound-absorbing materials where possible in their design.

* Visit asa.scitation.org/doi/abs/10.1121/1.2723655 to read "Quieting Weinberg 5C: A Case Study in Hospital Noise Control" by M. MacLeod, J. Dunn, I.J. Busch-Vishniac, and J.E. West, published in the June 2007 issue of The Journal of the Acoustical Society of America.
Sean Browne is the principal scientist of Global Acoustics for Armstrong Ceiling Solutions. A member of the Acoustical Society of America (ASA) and ASTM, Browne has engineering degrees from Florida State University and the University of Miami. He holds a patent for a power and signal distribution system for use in interior building spaces, and has been published in the journals of the International Symposium on Room Acoustics and the Acoustical Society of America. He can be reached at sdbrowne@armstrongceilings.com.

Control the content you see on ConstructionCanada.net!
Learn More.