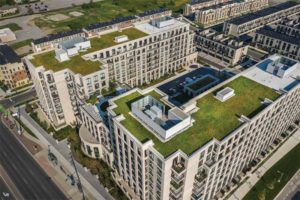 By Sasha Aguilera and Karen Liu
Global warming increases the intensity and frequency of extreme weather events such as heatwaves, rainstorms, and hurricanes. Last summer, China, India, Germany, Belgium, and the United States saw unprecedented rains and catastrophic floods which resulted in loss of life and widespread damage. More recently in Canada, a state of emergency was declared on both coasts due to record rains and floods.
In November 2021, a month's worth of rain (up to 250 mm [9.8 in.]) fell in two days in British Columbia, causing landslides and floods that washed out roads, destroyed farms and livestock, and forced evacuation of thousands. In Cape Breton, Nova Scotia and southwestern Newfoundland, up to 266 mm (10.5 in.) of rain fell over two days. Torrential rains flooded homes, washed out roads, forced closures of schools and shut down businesses.
New flood maps show "100-year" floods will happen every one to 30 years. According to Western University's flood maps, about four million Canadians live in floodplains that may be at risk in coming years or decades. These include major cities like Vancouver and Montreal. While floods are common in many parts of the world, climate change and rapid urbanization have exacerbated the problem.
Green infrastructure builds climate resilience
The Government of Canada recognizes urgent climate actions are needed. In 2021, it announced $3.79 billion in new investments related to climate change adaptation and resilience in support of the National Adaptation Strategy. It also launched five Advisory Tables that recognize the importance of resilient natural and built infrastructure and its relationship to a strong and resilient economy.
Green infrastructure mimics a site's natural hydrological cycle to manage runoff close to its source. As land is expensive real estate, designers are turning to the many rooftops, which make up 20 to 25 per cent of the land area in major North American cities. There are growing interests in using green roofs, blue roofs and blue-green roofs to manage stormwater in urban centres such as Toronto and Vancouver.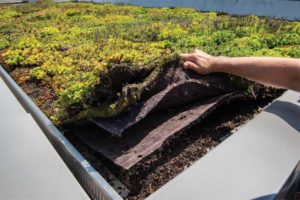 Sustainable roof colours – blue or green?
Rooftop stormwater management solutions are classified as source control tools – they capture rainfall right where it lands before it runs off into the storm sewer network. They are the first line of defence when working in combination with other at or below grade options onsite, such as bioswales or underground storage tanks. They manage stormwater through two distinct mechanisms: retention and detention (see sidebar page 22).
 Green roofs
Green roofs are specialized roofing systems that support vegetation growth on rooftops (see Figure 1). The vegetation and growing medium capture rainfall, reduce runoff and delay peak flow. The rainwater is retained in the growing medium, which is either taken up by the vegetation or returned to the atmosphere through evapotranspiration, completing the natural hydrological cycle.
Green roofs reduce runoff volume, thus lessening the burden on storm sewers and wastewater treatment plants, particularly those located in areas where storm and sanitary sewers are combined. They work well most of time except during back-to-back rainstorms because fully saturated green roofs cannot retain more water until they are dried out or "recharged" before the next rain event.
Green roofs are multi-taskers. They offer multiple benefits to buildings and the environment. They create amenity space, extend roof membrane longevity, reduce a building's energy demand, improve air quality and enhance biodiversity in the urban areas. Currently, more than 30 municipalities across North America have some form of policies or programs that encourage green roof adoption.

Control the content you see on ConstructionCanada.net!
Learn More.