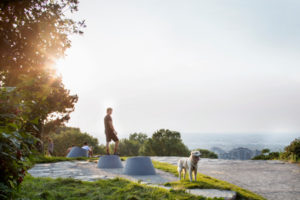 The winners of the 2018 National Urban Design Awards reflect a range of ideas about reclaiming and enhancing public space while addressing challenges such as urban density, environmental sustainability, and affordability.
Award recipients include an urban design plan for Toronto seeking to establish sufficient parks and open space to support a doubling of the downtown population. This project, 'TOcore: Downtown Parks and Public Realm Plan,' won in the urban design plans category. It establishes a framework for an expanded, improved, and connected parks and public realm network within downtown Toronto to support significant population growth over the next 25 years.
"It is a highly useful template for the citizen, designer, and politician to understand the ways in which Toronto could achieve a public realm that is more accessible, cohesive, and of greater substance," said the jury in a statement.
The City of Montréal won in the category of urban fragments for 'Discovery Halts (Escales découvertes).' Designed to commemorate Montréal's 375th anniversary in 2017, the project aims to provide visitors to city landmark Mount Royal with a new experience of the mountain and a clearer understanding of its natural and historical features.
Devastated by climate change events, the waterfront and boardwalk at the Anse-du-Sud sector of Percé, Québec, received assistance from the provincial government to fast-track a project for their protection and rehabilitation. This project won in the sustainable development category because "the shoreline was made resilient to future storms through environmentally sustainable design measures."
'The Kuujjuaq Hackathon 2017: Reassembling the North' won in the small or medium community category. Residents of Québec's Northern Village of Kuujjauq and designers from the province's southern area repurposed materials from the village dump to design and build an outdoor sports pavilion.
"The modest scope of the project raises the question of what could be achieved if this approach to revitalization of remote communities was properly funded and resourced," said the jury.
An urban beehive project in Charlottetown won in the community initiatives category. In collaboration with the community, Nine Yards Studio, the project's architects, created a destination to learn about the importance of bees in a sustainable environment.
Other projects include a proposal for outdoor spaces made of snow in Edmonton and repairs to a 'spaghetti junction' in the Toronto district of Etobicoke.
The National Urban Design Awards is a biennial program established by the Royal Architectural Institute of Canada (RAIC), the Canadian Institute of Planners (CIP) and the Canadian Society of Landscape Architects (CSLA) in 2006. The program showcases excellence in urban design, raises public awareness of the role this plays in sustainability and quality of life in Canadian cities, and recognizes the contributions of individuals, organizations, firms, and projects.