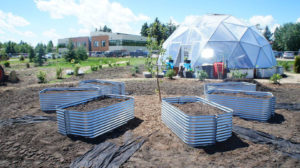 Lacombe Composite High School in Lacombe, Alberta, and Trinity College School in Port Hope, Ont., are the winners of the annual Canada Green Building Council (CaGBC) Greenest School in Canada competition. Thanks to solar arrays, geothermal greenhouses, urban beekeeping, and decreased natural gas consumption, these two schools are examples of sustainable learning environments.
Both will receive a $1000 cash award to put toward a new or ongoing sustainability project.
Despite being in a smaller Alberta community, Lacombe High School weaves sustainability throughout the school's programming in a variety of ways. Highlights include:
an environmental club that over the past 15 years has raised funds for 32 solar arrays;
a 13-m (42-ft), energy-efficient geodesic tropical greenhouse with geothermal heat storage;
outdoor gardens;
an urban beekeeping program;
complete composting of about 25 kg (55 lb) of organic waste from its kitchen per month; and
an Adopt a Garden initiative where the school gets community members to help take care of its gardens over the summer months.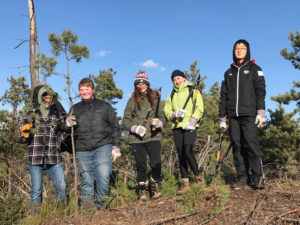 For Trinity College School, sustainability is at the forefront of every initiative, including physical building changes and upgrades and its comprehensive curriculum. Highlights include:
a five-year sustainability plan focused on reducing environmental footprint and the creation of a healthy, sustainable community;
a 23 per cent decrease in natural gas consumption over five years, an achievement the school attributes to window replacements and upgrades to its building automation systems (BAS) and boilers;
significant efforts to manage annual energy consumption through regular electricity audits, a major lighting retrofit, and a 220 kW solar photovoltaic (PV) installation; and
a "Farm Field Forest" initiative enabling students to build a greenhouse and shed and work on a 0.2-ha (1/2-acre) farm to harvest vegetables for the school's dining room and the local community health centre.
Launched in 2014, the Greenest School in Canada competition seeks to showcase kindergarten to Grade 12 institutions across the country exemplifying how sustainability can be woven into the infrastructure, culture, and curriculum of a school. The competition is part of a series of initiatives from the CaGBC and the Canada Coalition for Green Schools.