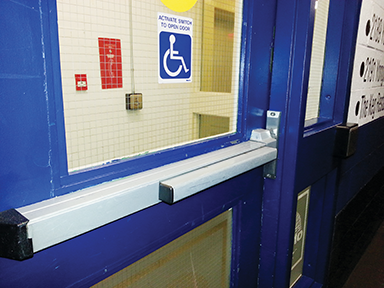 By Rob Botman
Traditional wired glass, which for years was labelled as a 'safety glass,' is increasingly being recognized as not being safe when it comes to human impact—it has directly caused serious injuries, most often to school-aged children. In the United States, building code effectively banned wired glass in the 2006 International Building Code (IBC), but Canada has been slower to change its rules. However, with injuries and lawsuits piling up, changes may be occurring in this country as well.
As its name suggests, wired glass is a type of glazing embedded with a mesh of steel wires meant to hold the shards in place if the glass is broken. Decades ago, this function was useful for applications like skylights and elevator shafts where the goal was to prevent broken glass shards from raining down on people below. Eventually, this application was largely taken over by laminated glass, which performs better.
Wired glass continued to have application in the modern era as a fire-rated glass. When exposed to the heat of a fire, wired glass still breaks, but its shards are more or less retained by the wires, providing some hindrance to the passage of fire throughout a burning building. Laminated glass could not take over this application, because the plastic laminate burns and can make the fire worse. Therefore, wired glass was seen as the only really viable fire-rated glass. As a result, one can see its legacy everywhere—typically in stairwell doors in schools, hospitals, retirement homes, and parking garages.
Wired glass breaks easily when impacted; the embedded wires act as a discontinuity, actually making the glazing weaker than plain glass of the same thickness. Wired glass does not meet modern test standards for safety against human impact. For a long time, however, it was the only product that could provide reliable fire protection—the consensus was the risks posed by fire were greater than those posed by breakage.
In the 1980s, new fire-rated glazing materials such as glass ceramics that offered both fire and impact safety ratings came to market. There was no longer any need to make a trade-off between fire protection and impact safety.
Banned in the USA
In the United States, wired glass was initially exempt from rules requiring glass in human traffic locations to be impact-safe. The 2000 edition of the IBC required glass in hazardous locations (defined in IBC 2000 Section 2406.2 essentially as doors, sidelites, and fixed glass panels less than 457 mm [18 in.] from the floor, etc.) to pass Consumer Product Safety Commission (CPSC) 16 Code of Federal Regulations (CFR) 1201, Safety Standard for Architectural Glazing Materials, except for wired glass installed in fire doors and fire windows. This gave wired glass an exemption from impact safety rules as long as it was installed in a fire door or fire window.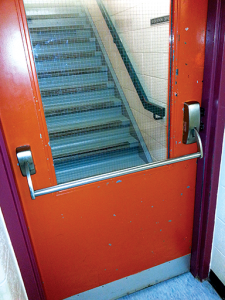 Changes to IBC began in 2003, when the exemption for wired glass was no longer allowed for Group E occupancies (i.e. buildings used for education), effectively banning wired glass in hazardous locations in U.S. schools. By the time the code's 2006 edition came out, the exemption for wired glass was removed entirely, effectively banning wired glass from all human traffic areas (e.g. close to the floor). This means the remaining allowable uses for wired glass are elevated, like transoms, above where anyone walking could trip and fall through the glass.
These changes came about because of the increasing evidence wired glass was injuring people. Some of the key evidence used by the Americans, ironically, came from Ontario. The Ontario School Board Insurance Exchange (OSBIE) is a branch of the provincial government that tracks various risks in our public schools and publishes its findings to help school boards prioritize ways to increase school safety.
Back in 2000, OSBIE published a Risk Management Advisory on the dangers of wired glass. In its report, the group tracked 107 glass injury claims against school boards over a 13-year period. The advisory states "wired glass can cause horrible injuries" and is "extremely hazardous in impact situations."
Status in Canada
Canada has a system of national standards for materials that are referenced by the national and provincial building codes. In 1990, the Canadian General Standards Board (CGSB) last revised its standard, CAN/CGSB 12.11-M90, Wired Safety Glass. The definition of the word 'safety' has been clarified over the years to now mean safety against human impact. This evolution of the language is playing itself out in the various building codes across the country as they are updated.
An example of this is the problem of tempered glass falling out of the new condo balconies in Toronto. Tempered glass is 'safe' if it breaks into small pebbles that will not cut people, while laminated glass is 'safe' if it resists penetration when broken. On a balcony 30 storeys up, the question is whether one wants the 'safety' provided by laminated glass (i.e. not falling if the glass broke) rather than tempered (i.e. falling to one's death, but not being cut by broken glass). Revisions to the codes and standards are expected to address these kinds of problems.
CGSB has started a review of its glass standards, including 12.11-M90. Its spokesperson, Annie Joanette, has been quoted in The Globe and Mail as saying a new draft of the standard will be ready for review later this year and will be completed next year.
Injuries and lawsuits
There are several lawsuits currently underway in Canada over injuries caused by wired glass. Sean Lloyd filed a $5-million lawsuit on April 29, 2014, against Halton Catholic School Board. The lawsuit alleges the school board was negligent in failing to replace wired glass with safer materials, despite knowing the risks of wired glass.
Lloyd was a Grade 12 student at Assumption Catholic Secondary School in Burlington, Ont. He was late for class and was rushing up the stairs when he tried to open the fire doors in the stairwell by pushing on the wired glass instead of the push bar. Unfortunately for him, he put his arm right through the
glazing.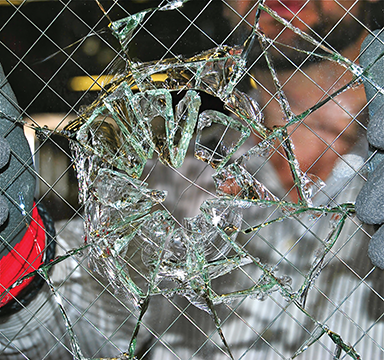 As mentioned, when wired glass breaks, the shards are held together to retard the spread of smoke and flame through the building. The result snared the student's arm, badly lacerating it and leading to permanent loss of sensation. There have been hundreds of similar accidents in North America over the years.
A similar lawsuit was filed against the Toronto District School Board in July 2010 by a student, after he went through a wired glass door in his school and suffered a severed artery, along with tendons in his right hand.
Not all lawsuits have stemmed from schools. In 2009, a young airplane pilot staying at a Kingston, Ont., hotel, pushed his arm through a wired glass door. He suffered permanent injury to his shoulder and arm, lost a lot of blood, and had a stroke. His career over, he sued the hotel for negligence.
The tide has turned
The Sean Lloyd lawsuit has been a wake-up call for school boards since trustees, teachers, administrators, and maintenance staff are now all subject to liability. Architects, specifiers, suppliers, builders, and owners are also on notice. Some installers are refusing to install wired glass out of fear of taking on liability, and some construction insurers are mandating wired glass can no longer be used.
The remaining manufacturers of wired glass explicitly label the glass as not a safety glass. Worldwide sales have dropped dramatically in the last 10 years, with many plants closing. Approximately 95 per cent of the remaining wired glass sales are in Japan where it is used as a seismic glazing that
resists falling out of windows when broken during an earthquake. (Earthquake safety is prioritized over human impact safety.)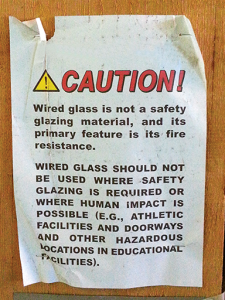 Alternatives
There are affordable, better-performing materials compared to wired glass. For non-fire rated applications, impact-safe tempered and laminated glass can be used. Tempered glass is made by a special process of heat treating regular glass, and laminated glass is made by laminating a tough polymer layer between two pieces of glass. Both tempered and laminated glass products are able to pass CPSC 16 CFR 1201 and American National Standards Institute (ANSI) Z97.1-2009, Safety Glazing Materials Used in Buildings−Safety Performance Specifications and Methods of Test. However, neither are fire-rated glasses.
For fire-rated applications such as the stairwell door commonly found in schools across Canada, the alternatives to wired glass that are both fire-rated and impact safe include:
glass ceramics;
intumescent glass; and
organically coated wire glass (wired glass laminated with a certified fire and blast protection film that strengthens the glass).
The benefit of upgrading to ceramics and intumescent glass is they offer clear vision without any wires. Glass ceramics are thinner and lighter than intumescents, while intumescents are thicker and come in larger sizes than glass ceramics.
All these fire-rated materials must be tested, certified, and individually labelled or they will be rejected by the local fire marshal or building inspector. It is important designers and specifiers consult Canadian glass suppliers for advice.
Conclusion
From the hundreds of documented injuries, it is clear traditional wired glass is not an impact-safe glass. The United States banned the material in most applications years ago, and it appears Canada is on track to do the same. Many construction industry professionals are proactively choosing to avoid liability by using alternative products.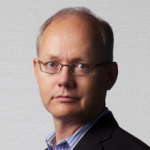 Rob Botman is the general manager of Toronto-based Glassopolis and has a decade of experience with technical and architectural glass. The founder of Canadians for Safe Glass, he has a degree in mechanical engineering. Botman can be reached by e-mail at rob.botman@glassopolis.com.

Control the content you see on ConstructionCanada.net!
Learn More.