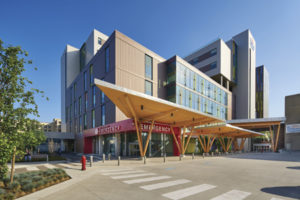 Health care industry leaders are increasingly turning to a model of resilience to ensure their facilities remain operational during natural disasters in a changing climate. Designing for resilience reduces risk and supports recovery in the advent of disaster, helping futureproof communities for an increasingly uncertain world.
The Teck Acute Care Centre (TACC) at B.C. Children's Hospital, Vancouver, is one of the latest examples of resilient design going beyond code requirements. The facility replaces aging infrastructure and provides much-needed space for larger care teams and new technologies required to treat today's chronic and complex illnesses.
ZGF Architects, in association with HDR and Affiliated Engineers, designed the eight-storey, 59,400-m2 (640,000-sf) children's and women's inpatient tower.
One measure of a community's resiliency is its ability to serve society's most vulnerable citizens in the event of a disaster. The provincial health authority wanted to ensure TACC could withstand a natural disaster. The design team worked closely with caregivers, staff, and patients to develop a design that improves care delivery while enhancing resiliency. Heavy emphasis was placed on the effective integration of operations.
Architectural accommodations for disaster include the capacity for rapid response, ability to cohort infectious outbreaks, adaptable space for an emergency operations center, and provision for future expansion.
An article in our newest e-book explores the variety of creative solutions the TACC design team employed to achieve resiliency and ensure the facility remains operational during natural disasters. It appears along with two other articles on institutional architecture in "Designing MUSH Facilities," a free, downloadable resource. To get your copy in either pdf or digital edition, visit www.constructioncanada.net/ebook/designing-mush-facilities-de.