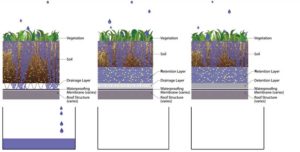 Put simply: the modern vegetated roof is designed to drain extremely fast. That is not to say no one has considered alternatives. Slowing down water to create detention has been tried in vegetated roofs, albeit with mixed success. There are a few examples of great success, but replicability and widespread adoption have been difficult to achieve. This is unsurprising, since creating detention in a thin vegetated system is challenging. However, innovations are changing that equation.
Different roof systems with detention technology
There are different types of detention-based roofing systems on the market. All solutions have their merits, and often a single project may benefit from multiple approaches.
Blue roofs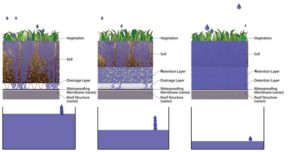 Often the most economical, blue roof simply store water on the roof. This was a building practice that was fading out of existence 40 years ago, and is coming back as a potential to moderate building heating and cooling, as well as retaining water on roofs. While effective at storing water, some considerations are:
no vegetation;
add substantial weight to the roof;
require a flat deck;
need specific roofing membranes and installation techniques for warranties to hold;
the roofing membrane is exposed to ultraviolet (UV) degradation;
require controlled release such as an orifice restrictor, holes in an elevated drainpipe, or a mechanical valve that can be opened and closed using smart technology;
impractical for small roof areas due to the fixed cost per drain; and
standing water may pose risk of disease and safety issues to maintenance personnel.
Blue-green roofs on stilts
Also known as ponding-detention blue-green roofs, it allows for water to be stored underneath the vegetated roof. It is often the detention option adding the most weight to the roof because of the water detained through ponding and the water retained in the vegetative system. Aspects to consider include:
require a flat deck and controlled release;
an option for larger roof areas that can support a lot of weight; and
plants used for blue-green roofs have a high tolerance for moisture and thus can be high-maintenance.
Friction-detention blue-green roofs
These roofs are inspired by nature and emulate friction found in watersheds to delay stormwater runoff and peak reduction. Water is stored throughout the vegetated roof profile instead of in an isolated pool beneath. Detention layer provides uniform friction and distributes water evenly throughout the surface and the green roof profile. The lightweight system can temporarily store 75 to 100 mm (3 to 4 in.). It is the only vegetated roof detention option that also works for sloped decks and is good for plants as water is more evenly distributed, increasing evapotranspiration and retention.
How friction-detention technology emulates nature
Detention in nature is caused by distance, slope, and friction. Water takes longer to drain if there is a greater distance to travel, a low slope, or flat surface and encounters some resistance en route. For example, when a drop of water lands in a meadow 1 km (0.6 mi) from the nearest stream, it must travel the long distance, across the flat surface, weaving through all the plant stems and blades, which cause friction, before it reaches the stream.
Now consider a roof with drains spaced relatively close together, slopes at two per cent (2/100 m [6/330 ft]) toward drains, and a slick surface allowing water to flow across rapidly. Limited distance and efficient slope toward the drain, along with minimal friction create 'instant' runoff. From street level to rooftop, this situation is ubiquitous in urban areas, which is the root of urban stormwater problems.

Control the content you see on ConstructionCanada.net!
Learn More.