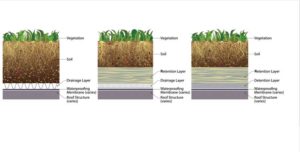 Within two days in August, Toronto received almost 14 per cent of its annual rainfall, causing great damage and more than $80 million in insurance claims. Heavy rain events have and continue to hit communities across Canada. The National Capital Region of Ottawa, Gatineau, and Montréal have flooded three years in a row with a state of emergency declared, and the army deployed most recently in April 2019. In 2013, Calgary and environs were deluged with 325 mm (13 in.) of rain, the city's entire average annual rainfall, in just 48 hours. This storm resulted in five deaths, the displacement of more than 100,000 people, and made it one of the costliest disasters in Canadian history at $1.7 billion (read G.N. Ilya Bañares' "Flooded walkways, subway service reopened after another night of flooding in Toronto" article in the Toronto Star).
When implemented on a large scale, a vegetated system with detention technology can help mitigate the impact of extreme storms, lessen the strain on storm sewers, and decrease combined sewer overflow (CSO) due to the following key features:
Detention technology mitigates floods
can manage large and repeat storms and is not dependent on weather to provide a repeat performance;
stores water temporarily and limits the rate at which water flows from the roof drain; and
can recharge in as little as a few hours.
FLOOD RISK ACROSS CANADA
Recent flooding in communities across Canada have caused great property damage, loss of personal belongings, substantial increases to insurance premiums as well as impacted the physical and mental health of residents. Since the 1990s, cities such as Edmonton, Winnipeg, Hamilton, Toronto, Ottawa, and Montréal, and the Greater Vancouver Regional District implemented a variety of urban stormwater best management practices (BMPs), including use of vegetation, to help manage stormwater quantity and quality (read "Weathering the storm: Developing a Canadian standard for flood-resilient existing communities" by N. Moudrak and B. Feltmate, 2019). Since the turn of the century, new paradigms emphasize the importance of flood control. Some jurisdictions in Canada, such as the Province of British Columbia, have set runoff volume control targets and prescribe methods for runoff retention and detention onsite (consult "LID Implementation: From an international Perspective to a Canadian One: Synthesis of the SOCOMA (Source Control Management) Activities Specific Needs for Successful Projects in Canada" by G. Rivard for the fourth annual TRIECA conference in 2015).

Engineering a vegetated roof for detention increases ROI
Not only are detention-based vegetated roofs a good investment for Canada's long-term infrastructure plan, but also offer building owners a return on investment (ROI) with more efficient use of valuable real estate.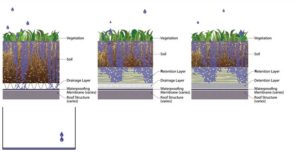 If detention is required onsite, it is achieved in the form of tanks, ponds, rain gardens, etc. All those solutions take up space that could possibly be used for other things. For example, tanks often take up space in parking garages. Though rain gardens or ponds can be attractive landscape features, they can require significant amounts of space that can constrain the site and/or building design.
Vegetated roofs, on the other hand, occupy under-utilized space. Instead of putting a tank in a parking garage, a detention vegetated roof could allow extra parking spaces to generate revenue. Instead of a sizable rain garden at street level, a more modest rain garden could be built, allowing for optimized use of valuable street-level retail space. It should be noted parking demands in Canada have significantly increased the last number of years and a single additional parking space in Toronto can cost more than $50,000 on average or bring in $7000/year in parking revenue (consult G. Marr's "Buying a Condo, Maybe you should get the parking spot too," published in the Financial Post in 2015 and the Ibis World Report, "Parking Lots & Garages – Canada Market Research Report," published in May 2019. The calculation is based on average parking fee of $20 per day for 365 days).
This benefit is compounded when a vegetated roof is a requirement. For example, if a vegetated roof is needed by ordinance, or for retention purposes, it will be installed regardless. A vegetated roof providing detention benefits can also lower the cost of other SWM devices. Outside of water retention for management of SWM, the two physical attributes of the roofing system being evaporation and transpiration also help to passively cool the building and moderate local urban heating (i.e. heat island effect).
Evolution of roof systems with detention
Since the development of the modern vegetated roof in Germany 40 years ago and introduction of vegetated roofs to North America about two decades ago, nearly all of them have had extremely high drainage rates with minimal resistance to flow. The German Landscape Research, Development and Construction Society (FLL) green roof guidelines instruct the water permeability (Kf mod.) to be within the range 0.6-70 mm/min.

Control the content you see on ConstructionCanada.net!
Learn More.