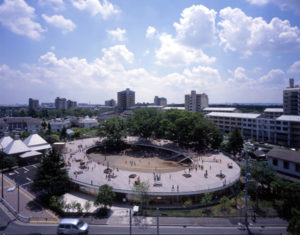 The $100,000 Royal Architectural Institute of Canada (RAIC) International Prize for transformative architecture is inviting submissions for its third edition.
Awarded every two years, the prize, formerly known as the Moriyama RAIC International Prize, recognizes the power of architecture to transform society. In keeping with a focus on the social relevance of architecture, jurors will visit all finalist projects to see the buildings in use and appreciate their impact on society and human well-being.
RAIC is accepting entries from architects anywhere in the world, of any nationality, until April 26. The buildings should be "inspired as well as inspiring" and reflect humanistic values of equality, respect, and inclusiveness. Projects should have been completed and in use for at least two years. For information on how to submit your application, click here.
The winner is selected in an open, juried competition and will be announced on October 25, 2019, at a gala event in Toronto.
David Covo, FRAIC, associate professor, Peter Guo-Hua Fu School of Architecture at McGill University, will act as the professional advisor to the jury.
The prize includes a monetary award of $100,000 and a handcrafted sculpture designed by Canadian designer Wei Yew. Each edition of the prize features a new piece by Wei Yew based on a unique interpretation of the Canadian landscape.
Additionally, three students from a Canadian university architecture program will each receive scholarships of $5000. They will be chosen on the basis of a written essay. For more information, click here.
"Transformative architecture brings beneficial change to society and communities. Responding to the exigencies of people and place has never been more vital, and the award brings an international focus to these imperatives," said Stephen Hodder, former president of the Royal Institute of British Architects (RIBA) and a 2019 jury member.
The 2017 winner was the Tokyo firm Tezuka Architects for its Fuji Kindergarten. The oval-shaped school, with a large rooftop play area built around trees, restores a connection with nature and creates an environment where children can follow their instincts for play and movement.
RAIC and Canadian architect Raymond Moriyama created the prize in 2013. Their goal was to share Canadian architectural values with an international audience and to celebrate architecture that is socially transformative.