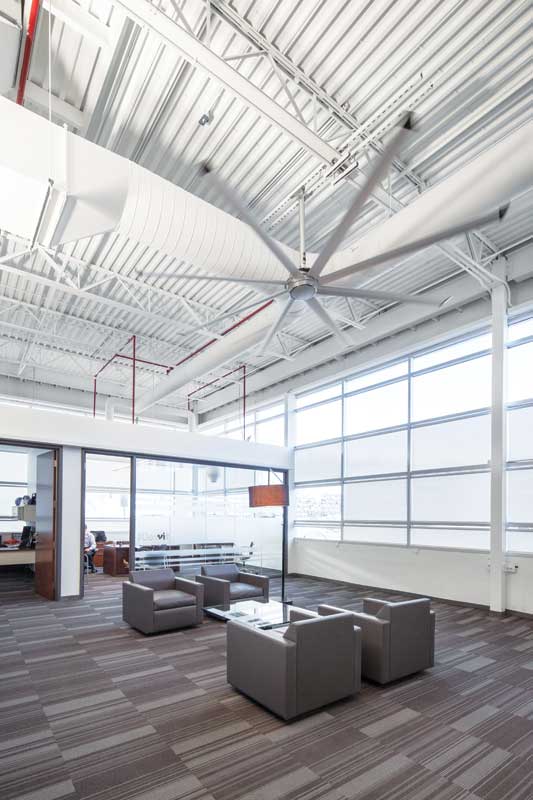 By Vicky Broadus
Architects often sell their clients on the promise of large overhead fans based on the argument of long-term energy savings from reduced reliance on HVAC. Architect Antonio Santini and his team at RED Studio persuaded an initially skeptical client by devising an overall plan for a new office building that not only offered long-term savings, but more importantly, was also less expensive in its upfront costs. This resulted in a clean, uncluttered interior that is both a showcase of energy-efficiency and a flexible environment putting employees' well-being first. The innovative use of large overhead fans also required creative rethinking of the lighting design that earned the studio an award from the Illuminating Engineering Society (IES).
Fans in an office space
RED Studio's client, Kiewit Corporation, is among the largest construction firms in the world. The Omaha, Nebraska-based corporation wanted a new building for its Toronto office, Peter Kiewit Infrastructure. Santini described his client's goals for providing thermal comfort as similar to most—a cost-effective system that ran smoothly. Additionally, Kiewit had an environmental mandate. While it was not focused on Leadership in Energy and Environmental Design (LEED) ratings, it still wanted to be mindful of environmental solutions.
"If it was in their budget, then they could make the case to their corporate executives," Santini said of considering
new solutions.
Santini and RED Studio had conducted research into indoor air quality (IAQ) and distribution through the use of large overhead fans, and were eager to put it to use. They knew that by supplementing conditioned air with cooling airflow, businesses could greatly reduce air conditioning use and cost—from three to six per cent for every degree the thermostat is raised. In winter, the fans efficiently and completely distribute heated air, saving a similar amount.
RED Studio saw the Kiewit project as an opportunity to create a showcase for the large construction company. However, it would take some time to design an innovative plan and persuade Kiewit's engineers it could do more than save energy costs—that is, it could save money on the front end as well.
"We introduced them to the notion of bringing in the fans and completely rethinking the mechanical strategy," Santini said. "What we did was essentially go back to the drawing board."
The design
Due to the nature of the building—open-concept industrial-style with 5.5-m (18-ft) high ceilings—the standard solution for the environment is to, in Santini's words, "litter the ceilings with ductwork and units and try to capitalize as much as you can on distribution to get to where you need to be."
This presents various challenges when it comes to design and air quality. Santini's team of mechanical engineers and their vendor stripped down the mechanical units and distributions to capitalize on the overhead fans—17 in total across the 3000-m2 (33,000-sf) structure.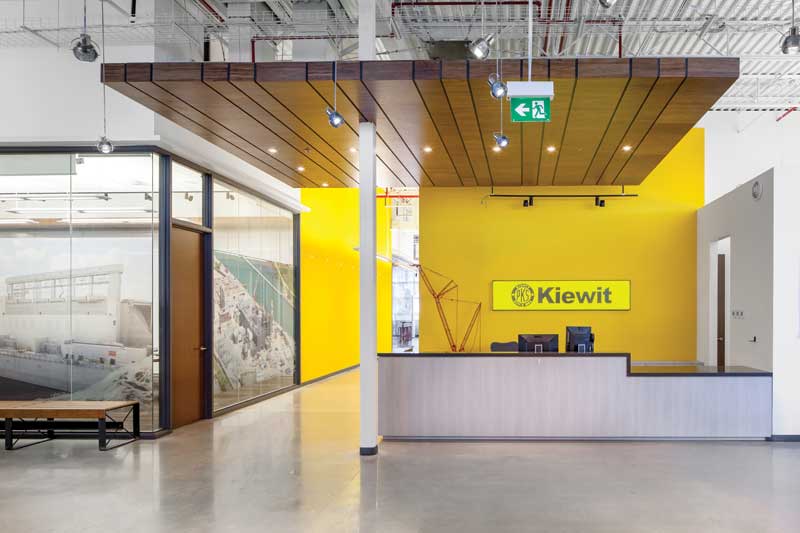 Santini said it achieved three things:
"First, it gave us 17 different zones for user control for comfortability," he explained. "Another thing is by doing the distribution with the fans, it allowed us to cover almost 100 per cent of every square inch of the floorplate so that there wasn't any pocket of air that was going to be stale. There's always a lot of air movement in the space. And third, it cleaned up our ceiling dramatically, so that we didn't have to deal with the ductwork."
Partly because the rooftop units did not have to push air through maze of ductwork, the team was able to size down its rooftop units to smaller, more energy-efficient models. The fans were a visual boon as they kept the ceiling neat and tidy and contributed to a sleek, utilitarian look in the office.
Kiewit's executives bought into the design concept, particularly because of the energy efficiency, which Santini said "sealed the deal." However, the RED team ran into some reluctance from the client's facility management group, who did not believe the design could work. They wanted it done in a traditional manner with chillers and the typical methods used for a large floorplan.
"They didn't understand the benefits of having user controls and the air movement produced by the fans," Santini explained.
Santini and his mechanical engineer spent several evenings collaborating and debating design rationales and philosophies, and then backing them up with hard data to prove their effectiveness.
In terms of ductwork, rooftop units were introduced into the space with a main spine associated with each unit. The function of this main spine is to throw air into the upper strata of the building. This air is then distributed across the space with the help of overhead fans. Essentially, the rooftop unit only produces the air to a specified temperature and it is the fans job to distribute it to the lower strata.

Control the content you see on ConstructionCanada.net!
Learn More.