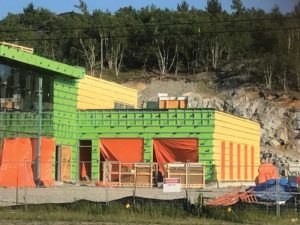 It appears that more frequent and damaging natural events have been occurring in Canada over the past few decades, whether it is flooding, high damaging winds, ice storms, and/or fires. Using insulation materials that are resilient and have the potential to resist these reoccurring natural events is the key to sustainable design. The Government of Canada states flooding in the country has increased 300 per cent since 1960.2 It also claims two out of 10 homes are at risk of flooding.3 Using closed-cell foam insulation in flood prone regions, as recommended by Federal Emergency Management Agency (FEMA), does not require replacement after a flooding event. Fibrous insulations do, however, as contaminants are trapped within the fibres after the water recedes. Hurricanes hit Canadian shores approximately six times a year and closed-cell SPF has helped buildings survive high winds.4 Adding up to 300 per cent racking strength to the enclosure and providing resistance to wind infiltration, closed-cell SPF acts like a "house glue."
Further, 2023 has been a terrible year for damaging fires in Canada. Using non-combustible insulation on the exterior has the potential for minimizing the damage to a building in close proximity to a fire. If building materials do not have to be landfilled, manufactured, transported, and installed after a natural disaster, the building's increased operating carbon footprint has been minimized.
Proper disposal of thermal insulation
There is significant confusion regarding the proper disposal of thermal insulation once it reaches the end of its life. Similar to manufacturing facilities for insulation, recycling plants are scarce in Canada. If the insulation cannot be recycled locally, it may be more environmentally sensible to dispose of it in landfills rather than opting for recycling, especially considering transportation-related carbon emissions as discussed earlier.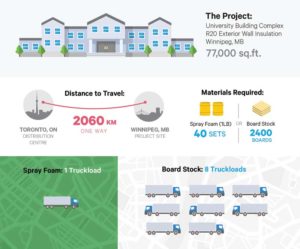 Fibrous insulation can theoretically be recycled; however, each manufacturer has its own protocols and would need to be contacted to verify the recycling operations. Foam insulation can be recycled typically in three ways: adhesive pressing, creating polyols, and by energy generated by incinerating. Local reuse may be the best option for fibrous and board stock insulation, which can be used in the construction industry again; however, contaminates will have to be removed prior to reuse. Site applied SPF insulation and the components it adheres to cannot typically be reused in a building as a raw material. Unless there are local insulation recycling facilities, the most carbon friendly solution to discarding insulation is the landfill.
Given its vast size and diverse range of temperatures, Canada is susceptible to experiencing various natural disasters. However, implementing sustainable design and carefully selecting materials can play a crucial role in mitigating the country's overall global carbon footprint. The industrial sector produces more than 50 per cent of Canada's total energy demand. Thermal insulation manufacturing and use also impacts the building and transportation sectors; therefore, a designer should choose, analyze, and specify insulations that have the least amount of carbon impact on these sectors.

Control the content you see on ConstructionCanada.net!
Learn More.