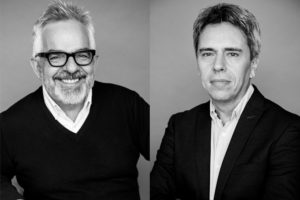 Gilles Saucier, FIRAC, and André Perrotte, FIRAC, have been awarded the 2018 Gold Medal by the Royal Architectural Institute of Canada (RAIC). The founders of the Montréal-based Saucier + Perrotte Architectes have for 30 years consistently produced refined, elegant, and modern buildings, according to a statement released by RAIC.
Saucier and Perrotte founded their eponymous firm in 1988. The firm represented Canada at the Venice Architecture Biennale in 2004 and has received more than 100 awards, including eight Governor General's Medals in Architecture and the Government of Québec's Prix Ernest Cormier for lifetime achievement.
"They are ambassadors for Canadian architecture," said the five-member selection jury. "They do not compromise. Their work inspires and delights. Their projects are functional, sculptural, and beautiful in the landscape. They are spaces that one enjoys being in."
The Gold Medal is the highest honour RAIC can bestow. It recognizes a significant and lasting contribution to Canadian architecture.
The award will be presented at the RAIC/AANB Festival of Architecture, taking place in Saint John from May 30 to June 2.
Apart from private residences, exhibitions, and art centres, Saucier+Perrotte has also designed:
theatres (Usine C and Cinémathèque Québécoise in Montréal);
commercial spaces, (the Michel Brisson boutiques and Scandinave Les Bains Vieux Montréal);
educational spaces (Perimeter Institute for Theoretical Physics in Waterloo);
sports facilities such as the new Stade de Soccer de Montréal (with HCMA Architecture + Design);
garden pavilions (First Nations Pavilion at the Botanical Garden in Montréal); and
the Canadian embassy in Abu Dhabi.
Ongoing major projects for the firm include River City, a 1000-unit Leadership in Energy and Environmental Design (LEED) Gold master plan in Toronto.