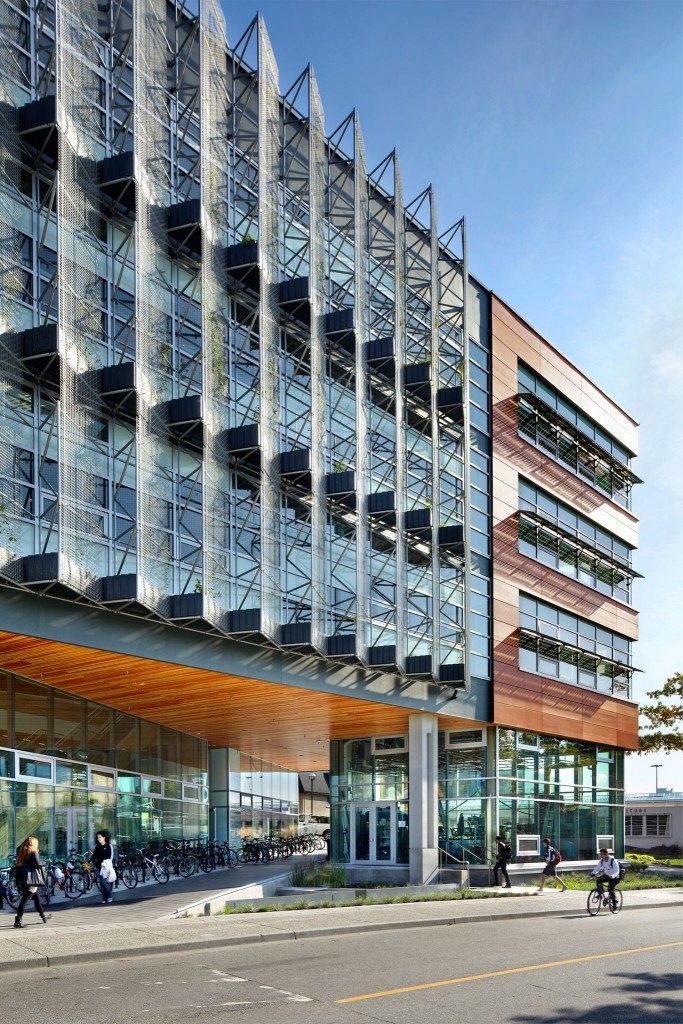 The Royal Architectural Institute of Canada (RAIC) has recognized the Centre of Interactive Research on Sustainability (CIRS) with a top green building honour.
The Vancouver project was profiled in the October 2012 issue of Construction Canada. The 2015 Green Building Award, presented by RAIC and the Canada Green Building Council (CaGBC), recognizes buildings with outstanding achievement in environmental responsibility and promotion of the health and well-being of its users.
CIRS, designed by Peter Busby of Perkins and Will, was envisioned as one of the most sustainable buildings in North America. Located on the University of British Columbia (UBC) campus, the research institute is Leadership in Energy and Environmental Design (LEED) Platinum certified, has net-positive energy, net-zero water, and net-zero carbon.
The building harvests sunlight, captures heat waste from nearby buildings, and exchanges heating and cooling with the ground. It returns 600,000 kW/h of surplus energy back to the campus while removing 120 tonnes of greenhouse gas (GHG) emissions annually.
"The significance of this year's green building award is clear," said RAIC president Sam Oboh. "The future of designing sustainable-built environments is as much about the ways in which we think, work, and interact as it is about lowering energy consumption of our workplace. The CIRS design not only assists in the research occurring inside the building, but its presence on the UBC campus adds to an international dialogue on the integration of cutting edge sustainable practices."
CIRS will receive the award at the RAIC Festival of Architecture taking place from June 3 to 6 in Calgary.