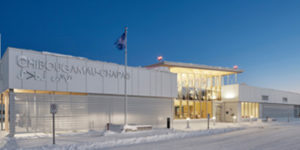 Quebec's Chibougamau-Chapais airport has expanded with a new terminal building featuring several timber components.
The new building is composed of two low structures on either side of a glazed concourse. The latter serves as a central hub for passengers and connects all terminal functions and services, ensuring they are easily identifiable and accessible. Its design establishes visual connectivity from the parking lot to the runway.
Waiting travelers can watch their plane on the tarmac while others can monitor the pick-up and drop-off zone. The exterior façade features the name of the airport in Cree and in French and is adorned with artwork by Emmanuelle Gendron.
Highlighting its proximity to the boreal forest, the terminal's design showcases locally produced wood, particularly products such as glulam and cross-laminated timber (CLT) structural slabs. The waiting area is delimited on three sides by timber curtain walls, topped by a raised roof forming a south-facing clerestory. The roof structure combines engineered wood and steel components. Stressed CLT panels spanning 12 m (40 ft) are supported by wood columns at each end, reinforced with high-strength steel rods tying the centre to the extremities.
The mixed structural system allows for large spans, creating an open public space. The system also allows for reduced roof thickness, while contributing to the interior shading strategy through its overhangs. The curtain walls provide natural light and improved energy efficiency, contributing to structural bracing, while the clerestory acts as a load-bearing axis.