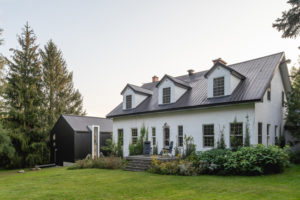 Blackwood Studio in Hinchinbrooke, Qué., is the outcome of a long history that began several years ago with a meeting with Steven Spazuk, a visual artist who paints with fire. Spazuk wanted to free himself from the space constraints of his cramped studio in the attic of his home in Léry, Qué., on the shores of Lake Saint-Louis.
A first version of the studio project was designed there and was set up in the backyard. Since the use of 'artist studio' was prohibited for accessory buildings in that municipality, it was out of the question for the artist to carry out his creations on the sly in a 'garage.' His desire for assertion and creation could not be expressed in such a place.
Additionally, the bedrock and constraints of the initial site soon made construction costs spiral upward. "What is the point of living off your artwork when in order to pay your mortgage you need to return to the job you left behind to dedicate yourself to the art of creation?" This marks the beginning of the search for a site for a house and studio. The location sought after would include an immense wooded area frequented by birds.
Architect atelier BOOM-TOWN found a large piece of land in Rigaud hills, Qué., and imagined a new project that would remain at the idea stage. In 2018, it was love at first sight. They fell under the spell of property on Blackwood Street.
This time, it was an opportunity to bring the project to fruition by adding to the house's structural components the studio Spazuk dreamt of for years. The budget remained modest, the form would be simple, but the context enabled the creation of a project that would integrate well with both the existing buildings as its natural environment.
The vast space is essentially dedicated to the creation and arrangement of an office area. The position of the openings is designed to let natural lighting judiciously illuminate the studio and allow the artist to relate to nature both within his new place of creation and at its doorstep. An all-glass space makes it possible to connect the studio to the house. The original house is white with a black tin roof. The play of black and white contrasts prevails.
As fire is at the heart of the artist's working method, burnt wood cladding was required to cover the main volume of the studio. A long white skylight cuts a slit, like an arrow loop, in the southwest façade, to sparingly catch the afternoon sun.