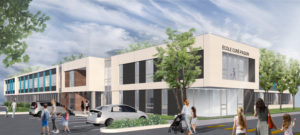 The Curé-Paquin Elementary School of the Commission scolaire de la Seigneurie-des-Mille-Îles (CSSMI) is the first grade school in all of Canada, and first project in Québec, to recieve the Zero-Carbon – Design certification from the Canada Green Building Council (CaGBC). This means the school is designed to achieve zero greenhouse gas (GHG) emissions associated with building operations.
Located in Saint-Eustache, Qué., École Curé-Paquin—currently under construction—will welcome more than 350 students in September 2019. It is part of 16 projects across Canada participating in a two-year pilot of CaGBC's Zero Carbon Building Standard.
Project highlights contributing to the zero-carbon certification are:
complete geothermal for heating and cooling;
enhanced building envelope with reduced thermal bridging;
optimal natural daylight and ventilation;
sensor-controlled light-emitting diode (LED) lighting; and
solar photovoltaic (PV) panels with a capacity of 27 kW on the gym roof that helps reduce total energy use and daytime energy demand.
Creative and bold initiatives are needed to counter the effects of climate change. I am therefore happy our organization is making this environmentally responsible gesture today, through the construction of this school, for the generations of tomorrow, said Paule Fortier, president, CSSMI.
The goal of the school board was to create a comfortable learning environment that could also be used as a learning tool. One of those tools will be a television broadcasting the school's daily energy consumption, including the energy produced via solar panels. In science class, students will learn how GHGs can be reduced using technologies found in the school.