Quebec office design provides fresh outlook on workplace synergy
June 14, 2022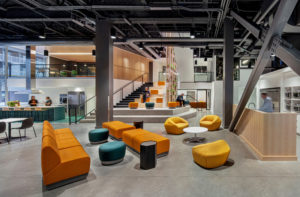 French vegetable processing company Bonduelle tapped architect Lemay to design their new Station B office space in Brossard, Quebec.
Capable of providing a stimulating, healthy environment, the new headquarters is a place where different work styles are accommodated, and employees can increase their performance by breaking down silos and creating synergies between previously geographically dispersed teams. The space features biophilic design elements such as natural materials, an abundance of plants, and an optimized ventilation system.
Named for its proximity to the Reseau express metropolitain (REM), Station B reflects a company whose identity is grounded in plant life. Inspired by the metaphor of the tree and the interconnected system it represents, Station B finds its roots in the first-floor cafeteria, a gathering place filled with activity and interactions between colleagues. This focal point extends through the trunk of a wide staircase crowned by vegetation, and into the branched and private workspaces which occupy each floor's periphery of the windows, reminiscent of greenhouses with glass partitions.
As part of the company's relocation, Bonduelle's teams had the opportunity to participate in the development of a new approach to workplace strategies. Led by Sandra Neill, "Bonduelle's new business-focused workspace is an inclusive work environment with a variety of locations, offering employees the opportunity to choose the best type of space—individual or collaborative—to fit their personal needs and preferences. This innovative workplace promotes physical health and wellness by focusing on the employee and customer experience, and by encouraging active movement throughout the day."
Endnotes:
[Image]: https://www.constructioncanada.net/wp-content/uploads/2022/06/BC_Lemay.jpg
Source URL: https://www.constructioncanada.net/quebec-office-design-provides-fresh-outlook-on-workplace-synergy/
---