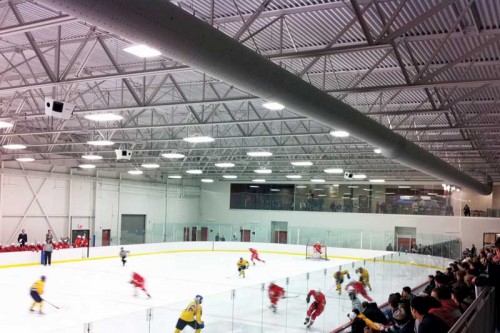 The Pat Burns Arena in Stanstead, Qué., used HVAC air distribution and heat recovery systems in its design for significant energy savings and a more comfortable environment for skaters and spectators.
The $9-million, 4459-m2 (48,000-sf) facility was commissioned by the municipal government and designed and updated from the original Stanstead College Arena constructed more than 50 years ago. The original facility relied on cold weather to freeze the ice, until being equipped with a more conventional refrigeration system in the 1960s. However, these systems became old-fashioned and updated installations were required to improve ventilation, indoor air comfort for skaters and spectators, and temperature control.
The new structure was built on the Stanstead College campus and replaced the former arena. It now includes:
• regulation-size 61 x 26-m (200 x 85-ft) ice rink;
• spectator seating for more than 500 and standing-room capacity;
• mezzanine restaurant;
• locker rooms;
• offices;
• physical therapy rooms;
• gym facility; and
• multi-function rooms.
Contributing to the indoor air comfort inside the arena is the suspended textile air dispersion ductwork, separating the spectators from the ice. The 51 m (167 ft) of non-porous textile duct evenly disperses air without drafting from one end of the arena to the other. An in-duct cylindrical tensioning system was also installed to keep the textile ducts extended and more esthetically pleasing. The systems keep the facility at a relative humidity (RH) of 40 per cent and a set temperature of 14 C (58 F).
Conventionally used metal ducts require more maintenance than the textile ducts used at the Pat Burns Arena. For example, textiles will not require replacement costs if hit with a hockey puck and dented, like a metal one would. Also, they can be commercially laundered to rid contaminants and maintain a high standard of indoor air quality (IAQ) rather than needing anti-corrosive coatings that may negatively affect the IAQ. The fabric duct system also cuts down on energy costs by allowing more even air dispersion throughout the entire facility, from the skating rinks to the change rooms.
The new refrigeration system is also able to save on energy costs for the facility by using heat recovery to supply the duct. Additionally, a cooling coil in the arena's air handler eliminates any fogging by dehumidifying the air within the building. This keeps the skating surface at optimal conditions. For high RH instances, there is also a backup dehumidifier.

Control the content you see on ConstructionCanada.net!
Learn More.