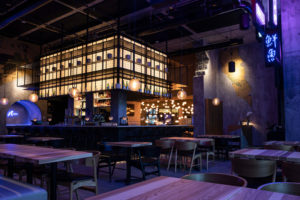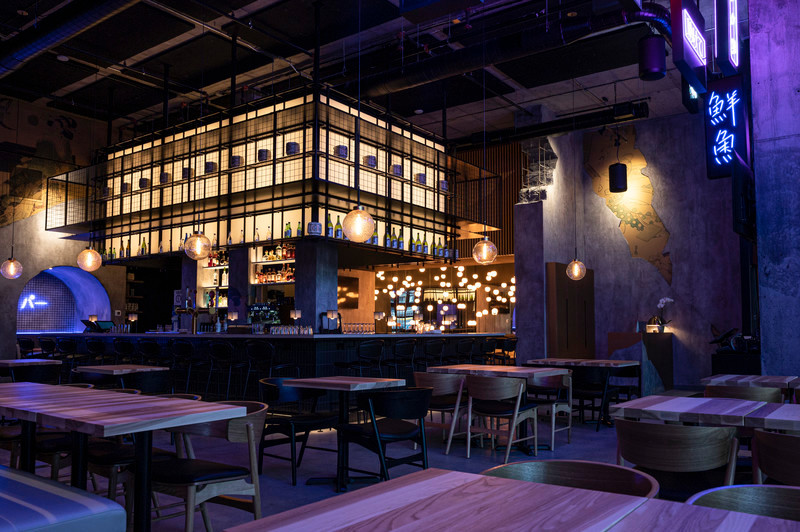 Seeking to develop a space conducive to the discovery of Japanese cuisine, Chef Frederic Dufort and his team enlisted Cleo Katcho Design Architectural to design the new Montreal-based restaurant, Iru Izakaya.
Having immersed themselves in the history of izakayas—small Japanese pubs where small plate sharing is typical—the Boucherville-based design team opted for a conceptual approach which would juxtapose the modernity of the place with its roots.
The concept was inspired by the postwar alleyways where izakayas were established. The design was crafted to contrast soft and hard, warm and cold, and rudimentary and sophisticated, to create the sensory experience the team set out to achieve. The lighting interventions in this project contributed to the achievement of this objective.
The space, which already had some architectural components the team had to work with, was planned to include distinct sections. By using different types of lighting and seating, the team was able to create several spatial transitions within a large open space.
The first section incorporates a series of alcoves, the front section is reminiscent of an alley, while the bar area is characterized by a lantern-like structure—a tribute to the sake protocol. The VIP section offers a distinctive visual experience, through the use of multiple suspended lights on the mirrored walls and ceiling.
The division of the space was done to allow for a focus on the central architectural element—the bar. The connection to the kitchen was also an important aspect to consider in the design, as its sights, sounds, and smells all contribute to recreating the closeness typically associated with the experience of traditional izakayas.
The team's ultimate goal was to create a unique, functional, and ergonomic design to reflect the vision and values of the client.