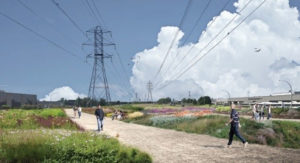 Civiliti, Land Italia, Table Architecture, and Biodiversité Conseil have won a special jury prize from the National Urban Design Awards in the 'sustainable development' category for the master plan of a biodiversity corridor in Saint-Laurent, Qué.
The award is organized by the Royal Architectural Institute of Canada (RAIC), Canadian Institute of Planners (CIP), and Canadian Society of Landscape Architects (CSLA). The prize recognizes individuals, organizations, firms, and projects that have contributed to the quality of life and the sustainability of Canadian cities.
The biodiversity corridor will link Saint-Laurent's existing biodiversity centres, and cover 450 ha (1112 acre), passing through industrial, commercial, and residential sectors. It will restore their connectivity through facilities that encourage the movement of flora, fauna, and humans.
The innovative vision of this project was developed within the framework of a master development plan presented in May last year by the above-mentioned firms.
The 180-page master plan required nearly a year's work by the four firms that were selected following a national multidisciplinary landscape architecture competition. Its originality lies in the fact that it combines landscape and urban architecture, the environment, biodiversity, ecology, culture, art, and social development.
"The promise of urban design is sustainable development—creating economic, environmental, social, and cultural benefits. While this project focuses on the environment, it reflects all 'seven s's' of urban design: context, character, choice, connections, creativity, custodianship, and collaboration," the jury said.
The first phase is scheduled to begin this year.