Providing acoustic comfort with sound masking
by | October 11, 2016 12:00 am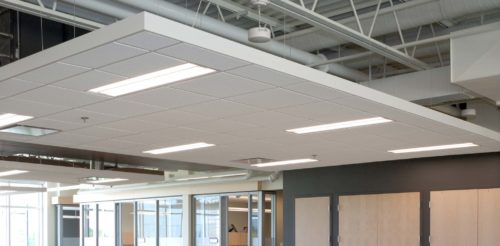 Open-plan space, modular walls, and reflective surfaces such as glass, concrete, and metal are just a few of the design trends making today's interiors even more dependent on sound masking for speech privacy and noise control. Since a sound masking system's ability to provide these benefits largely depends on meeting the specified spectrum—or 'curve'—throughout the facility, post-installation tuning is an essential part of the commissioning process. When handled poorly (or skipped altogether), the tuning of sound masking can greatly affect speech intelligibility, as well as occupants' concentration and their overall workplace satisfaction.
The curve defines what the sound masking system's measured output should be within the facility where it is installed. This target should be set by the client's acoustician or a third party such as the National Research Council (NRC), rather than by the sound masking system's manufacturer or vendor. The typical range is between 100 to 5000 hertz (Hz), but can go as high as 10,000 Hz. Unlike white or pink noise—terms often mistakenly substituted for 'sound masking'—the volume of these frequencies follows a non-linear curve specifically engineered to balance acoustic control and occupant comfort. Successful sound masking implementation involves achieving both goals in equal measure.
Regardless of how the sound masking system has been designed (i.e. the out-of-the-box settings, placement, and orientation of loudspeakers), the sound it distributes changes across the facility as it interacts with various interior elements, such as the layout and furnishings. To meet the specified curve, the client's acoustician or the sound masking vendor's technician must adjust the system's volume and frequency settings. In other words, the masking sound has to be tuned for the particular environment in which it is installed.
For more on this topic, and a variety of other issues related to acoustics and sound masking, download the new, free e-book, Strategies for Sound Masking at http://www.constructioncanada.net/strategies-for-sound-masking-ebook[1].
Endnotes:
http://www.constructioncanada.net/strategies-for-sound-masking-ebook: http://www.constructioncanada.net/strategies-for-sound-masking-ebook
Source URL: https://www.constructioncanada.net/providing-acoustic-comfort-with-sound-masking/
---