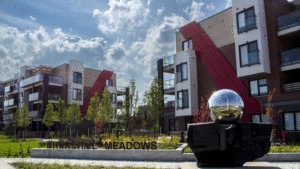 This fall, seven projects were honoured at the Mississauga Urban Design Awards for exceptional reflectance of the Toronto suburb competition's theme, "Transformation by Design."
Awards of Excellence
Two projects were granted Awards of Excellence this year. The first, the University of Toronto Mississauga (UTM) Deerfield Hall, impressed the jury with its esthetically pleasing terra cotta cladding, accessibility to pedestrians and vehicles, visibility, site grading, and sensitivity to the building's context. Deerfield Hall is owned by UTM, and the project consultants were Perkins + Will and Fleisher Ridout Partnership.
The other project to earn this award was Streetsville Village Square, owned by the City of Mississauga with CS & P Architects as the consultant. The project's red brick pavers and white features served to enhance its appearance, but above all, jurors were impressed by the square's subtlety.
"[Streetsville Village Square] is not doing all sorts of gymnastics to grab everyone's attention," said one juror. "Instead, it does exactly what it is supposed to do."
Healthy by Design
'Healthy by Design' awards are intended for projects exemplifying the elements of healthy development, namely:
density;
service proximity;
land-use mix;
street connectivity;
streetscape characteristics; and
parking.
One of the two projects awarded in this category, HOT Condos, was honoured for its innovation, design, and street visibility. Owned by PSCP #976 and Great Gulf, with Quadrangle Architects and The MBTW Group as project consultants, this project used prefabricated panels to incorporate sustainable materials and bold colours into a traffic-heavy intersection. It also enhances walkability in the area.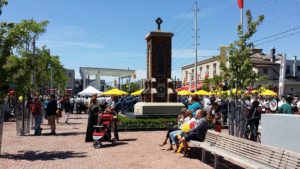 Square One Shopping Centre North Expansion/Simons was also awarded in this category, for connectivity and future innovation. This redevelopment encouraged traffic at the transit hub across the street, but also served to open up the mall space and encourage pedestrians to move through it, as well as changing a parking lot to a community gathering space. This project is owned by Oxford Properties Group, OMERS Realty Management, and 156 Square One. MMC International Architects, Lemaymichaud (partnered with figure3), and DTAH acted as consultants.
Award of Merit for Quality and Green Initiatives
This award went to Fire Station 119 and Peel Regional Paramedic Satellite Station, owned by the City of Mississauga with Hossack & Associates Architects and Graham Hess & Associates as project consultants. This sustainably constructed building should be the city's first to achieve Gold in the Leadership in Energy and Environmental Design (LEED) program, and features natural light, affordable but durable finishes, and 3000 m2 (32,291 sf) of permeable pavers intended to divert stormwater.
Award of Merit for Building Design and Execution
Kenaidan's new office building earned this award, largely for the quality of its exterior zinc-and-precast-concrete finish and building design execution. Owned by Derrycrest Investments, with Kenaidan Contracting and IBI Group Architects acting as consultants, this project fits well with the nearby heritage site, Derrydale Golf Course, and the 1-ha (2 ½-acre) site.
People's Choice Award
This award was granted according to votes collected through the City of Mississauga's Facebook page. At 177 of 700 total votes, Sobey's Regional Office emerged the winner, owned by Truscan Property Corporation & Lindisfarne Developments and worked on by Page + Steele/IBI Group and NAK Design Group.
This office features a sustainably minded design, targeting LEED certification with a focus on reducing carbon emissions and enhancing the work environment. Efforts to this end include a high standard for indoor air quality (IAQ) and use of recyclable materials. Ultimately, the building should use 20 per cent less energy and 40 per cent less water compared to similar structures.