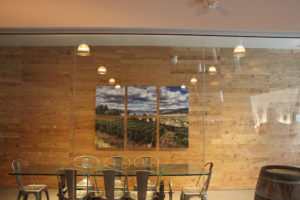 Unhappy with the acoustics in his winery's "viewing room," Howard Soon, the owner of Sandhill Winery in Kelowna, B.C., went in search of a solution. In the fall of 2017, the space the winery uses for private tastings was transformed from a highly reverberant but stylish room to one where the acoustics were very much under control. This was accomplished by using innovative panels that were printed with a design to serve not only as acoustic attenuators, but also as artwork.
"The winery was formerly a cellar storage area, so it was built to reflect industrial finishings, such as concrete floors, glass walls, and metal posts. The room had very poor acoustics since it had all solid surfaces so, when people were chatting, the sound echoed and guests could not hear the presenter," explains the winery's estate manager Patricia Leslie.
The main factors for the project team's consideration were respecting the company's brand image and the venue's esthetics.
"Sandhill Winery is a crisp, modern, industrial-chic space complete with large flat walls and hard reflective surfaces. Every esthetic detail is by design and you do not walk into that kind of an environment and just stick up some ugly homemade looking acoustic baffle. You have two choices; either make it blend in or make it its own piece of art. Our solution involved both," said Chad Johnson of AVcom Technical.
There are two main walls in the Sandhill Winery project—a floor-to-ceiling glass wall and a wood feature. A line of acoustic panels with the ability to have high-resolution images printed directly on the panel. When not printed or painted, the panels look like a blank canvas stretched on a wood frame.
"Solid, coloured panels wrapped in fabric just would not have looked right on the feature wood wall. Therefore, we decided to space the panels out into a large 16:9 layout and put a picture on them, turning them into their own piece of art," Johnson notes.
The image used in the hexaptych is of the King Family vineyard on the Naramata Bench (one of the six Sandhill vineyards).
The acoustic panels also control acoustic reflections on the glass wall portion of the viewing room. While the printed panels addressed some of the reflections on the wood feature wall, the project team was challenged to achieve the treatment coverage required to provide full acoustical control of the space. Customizable panels again provided the solution. These panels allow for a very light coating of matching paint to be applied on them without affecting their acoustical properties so they could be unobtrusively installed in other locations within the room.
"Now the room looks more inviting because there is a large vineyard photo featured, and the acoustic panels above the wall of glass work well with the printed panels on the opposite wall to reduce sound reverberation and volume. The space is now more inviting and usable," says Leslie.