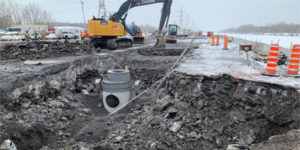 An extensive restoration project is currently underway at Quebec's Port of Ste-Catherine, along the south shore of the St. Lawrence River.
Led by the ALI Excavation Group, the infrastructure renewal project will comprise the construction of more than 1.5 km (0.93 mi) of stormwater pipes, as well as drainage and concrete slab repairs.
According to Marc-Andre Loiselle, the company's president and chief executive officer, the execution of the work had to deal with major issues due to the presence of rock, the proximity of waterways, and the excavation of trenches more than 7 m (23 ft) deep.
Excavation work began in late January. Sawing, vertical drilling, and concreting started in February and will be executed throughout the winter. The paving work will be carried out with the arrival of good weather and optimal climatic conditions next spring. The 375 mm (15 in.) to 675 mm (27 in.) diameter pipes which will be replaced over a distance of 1.5 km (0.93 miles) are at the heart of this civil engineering mandate.
The restoration project is expected to take two years to complete.