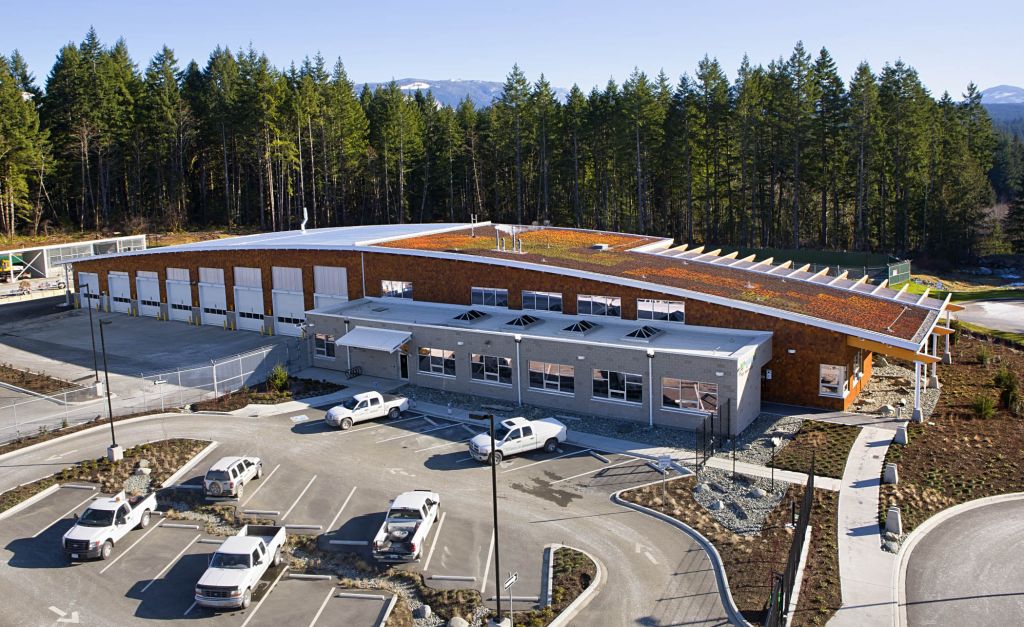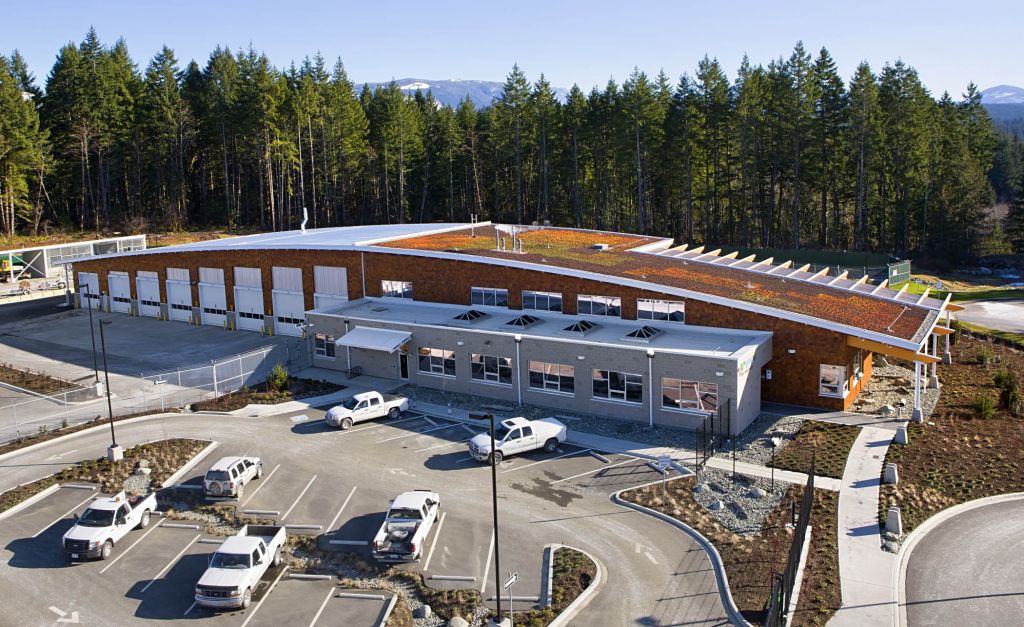 For a building to survive earthquakes, it needs to be tough. B.C. Hydro's new operations facility in Port Alberni is an energy-efficient field office that includes an emergency operations centre designed to protect it from natural disasters.
The 2022-m2 (21,764-sf) structure, designed and built by Omicron AEC, was completed in 2010 and comprises office and industrial space as well as truck bays, bringing the field and administrative workers under one roof. For the building site, second-growth forest was partially removed by a local First Nations contractor.
B.C. Hydro's original field office building was situated within Canada's highest seismic risk area and well within the tsunami hazard zone identified by the province. The new Port Alberni facility is now outside the tsunami risk area, but was still constructed to post-disaster seismic standards which required additional bracing and structural elements.
The centre's design, in addition to 72-hour generators and computer uninterruptible power supply (UPS), allows the field office to quickly respond and restore power to communities as soon as possible.
The B.C. Hydro building is situated to maximize the solar access and minimize exposure that adds heating and cooling loads. Windows, clerestories, and skylights provide additional daylighting, while sunshades increase occupant comfort. In areas where more lighting is required, dimmers, sensors, and time controls have been installed. The highly insulated, airtight building envelope, also contributes to reduced heating and cooling loads.
About 40 per cent of the roof is vegetated, enabling it to slow water runoff in addition to providing increased insulation. A monitoring system was installed under the vegetated membrane that helps determine the site of any leakage. During rainfall, the non-vegetated roof collects water into a cistern where it is reused for landscape irrigation and other non-potable uses.
The mechanical ventilation system uses outdoor air and a hydronic radiant system, in addition to a ground-source heat exchange system, to heat and cool the building.
A passive, high-performance envelope is comprised of two rainscreen wall systems. The first is exterior wood cladding installed on Z-bars, providing a vented air space. An air and vapour barrier of sprayed polyurethane foam (SPF) on glass-faced gypsum sheathing with metal-stud framing and gypsum board interior is also included. Additionally, another system with split-face concrete masonry unit (CMU) cladding is incorporated. Both assemblies have the same thermal performance.
The operations facility was the first building designed to comply with the Climate Action Plan and carbon reduction mandate set out by the provincial government. By employing efficient design features, the B.C. Hydro building is able to significantly improve on the energy saving requirements stated in the provincial building code.

Control the content you see on ConstructionCanada.net!
Learn More.