Transform virtual broadcasts with immersive audio
During the initial lockdown, businesses began to innovate to find ways to stay relevant with customers. Many in-person activities were (and still are) being converted into a virtual format—from Zoom classes to online workouts to streamed concerts. The performing arts moved to the next best available format. Clients began to stream live and to invest in systems to record and back-up live productions to be able to share on demand or a later date. But it was not long before people started to experience Zoom fatigue. While virtual musical performances are enjoyable and offer a reprieve, it lacks the level of engagement of a live experience.
Fortunately, the pandemic has shown when faced with adversity, innovation is possible and has allowed industries such as the performing arts to rise to the occasion to do things in new ways. Knowing the audience will be slow to return, it is important to find creative ways to emulate the concert experience. One way to accomplish this is providing the audience with a 3D stereo sensation. This can be achieved by streaming what is referred to as binaural sound which is like a virtual reality for one's ears. Guests would purchase a seat to the online show and pre-designed binaural microphones at the respective seat levels would stream to the patron's headphones so they can experience the sound as if they were sitting in those seats. All the reflection patterns and reverberance would be captured so the audience feels like they are in the venue. Experimenting with experiences like this will bring more engagement. If done correctly, this could open new opportunities and revenue streams as there would be no limitations to selling only the seats available in the venue to those who can access the location. The engagement can be extended even further by adding the option for visual elements for a virtual reality (VR) experience.
Think outside the box—literally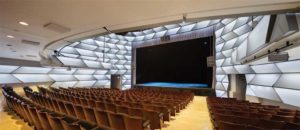 The performing arts have been traditionally enjoyed indoors, particularly in colder climates. But with many people evaluating the safety of being indoors versus outdoors, it is time to explore opportunities to literally think outside the box and incorporate outdoor space into the design.
To get a sense of what this might look like, consider The Tanglewood Music Center in Massachusetts. The facility is shaped like a giant barn and it opens to the exterior. Unlike traditional theatres, a few guests can be seated indoors, but many others enjoy the performances in the open air, often while picnicking on the lawn and under the stars. While Tanglewood has been open for decades, it has been cast into the spotlight more recently as the arts find creative ways to provide performances in a safe manner.
In fact, Hamilton, Ontario, has a more recent example of such a facility. The city converted a downtown six-storey concrete parkade into a rooftop open-air concert venue. An outdoor component to a performing arts venue design will require special considerations in urban settings where there may be noise from police or fire trucks or even traffic. In addition, weather in Canada can be unpredictable and very cold at times so consideration will need to be made to not only protect patrons from rain, wind, and snow, but also keeping them comfortable during the colder months of the year.
Seek out opportunities that may arise out of this crisis
If there is a different business model or a new way to engage patrons, this is the time to try it out because people are open to new ideas. As vaccination rates increase, there is optimism of returning to crowded spaces again. While there will be a new normal, people may come back slowly and in a modified way that provides a higher level of comfort to patrons.
When theatres were shuttered during the plague and World War II, they did not have the benefits of Zoom or other technologies, yet the arts remained relevant and came back stronger than ever. No doubt, the arts will emerge stronger this time as well and perhaps even better because of the many opportunities to innovate.

Payam Ashtiani, P.Eng., is a professional engineer and a principal at Aercoustics Engineering Limited, a firm specializing in fostering innovation in acoustics, vibration, and noise control. With more than a decade of experience in acoustics, he works with architects to solve noise reduction and noise mitigation issues for a wide variety of projects including theatres and performing arts centres. Ashtiani can be contacted via email at payama@aercoustics.com.

Control the content you see on ConstructionCanada.net!
Learn More.