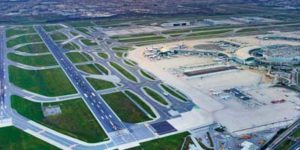 The Toronto Pearson International Airport's Runway 06L/24R rehabilitation project will proceed this month and will extend through fall.
Modern innovation and advanced planning will allow the Greater Toronto Airports Authority (GTAA) and lead contractor Dufferin Construction to complete the project in months instead of years. The project will contribute millions of dollars to the local economy; create meaningful jobs by generating approximately 200,000 labour hours; and employ sustainable construction practices, including the use of recycled materials and upgrades to 1800 light-emitting diode (LED) lights to enhance safety and reduce the carbon footprint of the runway.
"A strong Toronto Pearson will support a strong region, a strong province, and a strong Canada as we collectively emerge from the COVID-19 pandemic," says Pat Neville, vice-president of airport development and technical services for the GTAA. "We're pleased to have Dufferin Construction on board for this important project, which will ensure the continued safe operation of one of Canada's most vital pieces of infrastructure using modern, green, and efficient practices that take into account impacts on the communities surrounding the airport."
Dufferin Construction is pleased to be working at Toronto Pearson on this historic project, says Gary Dempster, the company's district manager.
"Dufferin has been working airside at Toronto Pearson for 30-plus years and looks forward to working collaboratively with the team to deliver this project successfully, while mitigating impacts to airside operations and neighbouring communities," says Dempster.