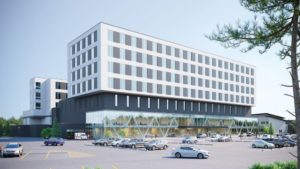 Saskatchewan's ministry, SaskBuilds and Procurement (SBP), is moving forward with the design early works phase for the Prince Albert Victoria Hospital project.
This phase of the project will be led by PCL Construction Management Inc. and includes designs for a new acute care tower, renovations to the current facility, and replacement of the existing adult mental health space. The project will increase the number of beds in Victoria Hospital to 242 on opening day from the current 173 beds, a significant increase of 40 per cent, with space to expand further as needed. The project also includes a larger emergency department and enhanced medical imaging services, including magnetic resonance imaging (MRI).
The design early works phase also involves early construction and site preparation, which includes geotechnical drilling, utility work, and building a new parking lot to replace parking lost in the construction of the new tower.
Also during this phase, if the government accepts a PCL bid, PCL will be responsible for the construction of the new tower and renovation of the existing facility as well. If the bids are unsuccessful, Saskatchewan government will own the completed design and may tender the construction through another contractor. PCL will be paid for the design and early construction work completed under the design early works agreement, whether the government accepts PCL's bids or not.
Prince Albert Grand Council (PAGC) has partnered with the Government of Saskatchewan and the Saskatchewan Health Authority on this project. PAGC will be providing feedback on the design of the facility. In construction, PCL will engage with local and indigenous businesses and trades to deliver services for the project.
"This phase of the project is important to inform the next steps of the design for the new future tower and planned renovations for the Victoria Hospital," says Michelle Mula, Saskatchewan Health Authority interim vice president infrastructure, information and support. "We are excited for this work to progress, which will bring us one step closer to expanded services and beds for those needing acute care in the north."
Results of PCL's first bid in summer 2023 will be announced following the evaluation.