Design submissions were evaluated in accordance with an adjudication system awarding points in 10 different categories, including:
fitness of plan/interior arrangements;
economy of construction, warming, ventilation, and lighting;
adaptation to local materials, site, and climate;
beauty of design; and
safety against fire.
Although some official sources say 32 design concepts were submitted, other references suggest the total numbered more than 200. It is believed at least some of the design formulations were similar in some respects to buildings recently constructed in Québec City and Toronto.1
In the end, plans from two different architectural firms were chosen and approved by Canada's Governor General. The Gothic Revival-style drawings of Thomas Fuller and Chilion Jones were used for the Centre Block and the Library, while those of Thomas Stent and Augustus Laver—similar in style to the first set—were used for the East and West Blocks.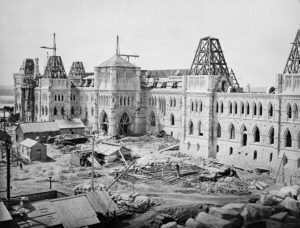 Researchers have been unable to clearly identify a statement of accommodation set forth for the design of the buildings. A statement or design guideline of this nature, if prepared today, would likely outline the need for edifices supporting the function and administration of our parliamentary political process.
The Parliamentary Precinct and the buildings contained within have succeeded in doing the above to an exceptional degree. Although they were "constructed with great haste,"2 they demonstrate remarkable quality, attention to detail, and craftsmanship.
Shortcomings exhibited by the buildings over time can be traced to limitations regarding provision of occupant requirements and expectations, resulting from the country's remarkable and sustained growth over time. It is also possible some faults may be somewhat more conspicuous given the continuous innovation that has occurred in construction, construction technology, and building science since the buildings were first designed and constructed.
Looking back, it is apparent the buildings were unable, within the prescribed budget, to provide the space and levels of occupant comfort typically taken for granted today. When the buildings were commissioned, they had no telephones or HVAC comparable to typical modern installations. There was only one operator-assisted elevator and, for the most part, low concern for security arrangements.
Conclusion
The Parliament Buildings' design and initial construction required an exceptional collaborative effort on the part of Canadian construction professionals. This also held true when disaster struck in 1916 and most assets were consumed by fire in the middle of the First World War—professionals had to regroup, rebuilding these structures from scratch.
The design and construction of the Parliament Buildings is extraordinarily well-documented, and the buildings and site continue to evolve and change as time passes—something to be grateful for, although we cannot afford to be complacent. It is crucial to continue efforts to rehabilitate and preserve the buildings—thus, the next instalment in this series will highlight some of the challenges to be faced in the future.
Notes
1 Several government employees responsible for the construction of these buildings responded to official enquiries regarding the methodology used to determine their approximate cost estimates. This estimating methodology held some similarities to the Québec and Toronto buildings mentioned.
2 To obtain this information, the author went to the Library and Archives of Canada and inspected the actual advertisements that were placed in newspapers at the time. This particular quotation comes from Carolyn A. Young's The Glory of Ottawa: Canada's First Parliament Buildings, published by McGill-Queen's University Press in 1995.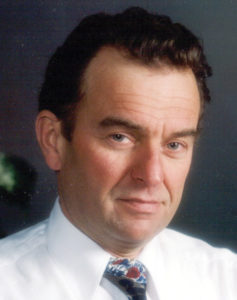 Brian Burton has written and co-authored several feature articles for Construction Canada, covering topics ranging from the possible effects of climate change on our built environment to the revitalization of Toronto's Maple Leaf Gardens. He is a Canadian General Standards Board (CGSB) Certified Construction Inspector, and has published more than 300 articles in Canadian, U.S., and international publications. Burton served on the technical committee that prepared CSA's new certification program for fenestration installation technicians, and is a member of the International Network for Traditional Building, Architecture, and Urbanism (INTBAU) and Association for Preservation Technology (APT). He also publishes articles on his site. Burton can be reached via e-mail at blueblade49@gmail.com.

Control the content you see on ConstructionCanada.net!
Learn More.