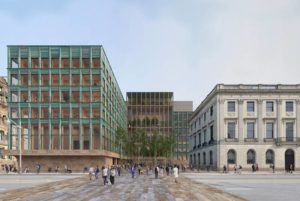 Zeidler Architecture Inc. and David Chipperfield Architects (DCA) have delivered the winning redesign scheme for Block 2 of Canada's Parliamentary Precinct.
Inspired by Indigenous values of respect and good stewardship, Zeidler and DCA's scheme embraces the challenges of sustainability and a circular economy, retaining most of the existing structures and combining them with new low-carbon, efficient buildings.
Block 2 is an urban block in downtown Ottawa, located immediately south of Parliament Hill and opposite Canada's main Parliament building. The site encompasses 11 buildings of varying size and condition, with several layers of heritage designation.
Held by the Canadian Ministry of Public Services and Procurement, the architectural design competition called for proposals to redevelop the block to provide office space for the Senate and the House of Commons, and allow for the future consolidation of parliamentary accommodations, including space for the Library of Parliament.
As a site of national importance, the Block 2 redevelopment project also carries a responsibility to not only provide the facilities for democratic government and urban infrastructure, but also to represent the values of a nation and a vision for its sustainable and inclusive future.
"As Canadians and as architects, we recognize the privilege of being able to craft a design on a site with national significance," says Vaidila Banelis, senior partner at Zeidler. "This is a rare opportunity, and our entire team understands the responsibility of representing the Canadian government and the Canadian people. Our vision is purpose-led and people-led, uniquely Canadian and contemporary in style for a nation that is confident in itself and its future—a future that demonstrates the best Canada can be: inclusive, accepting of difference, resilient, and in harmony with nature."