Ottawa university library wins design transformation award
by Katie Daniel | July 20, 2015 1:43 pm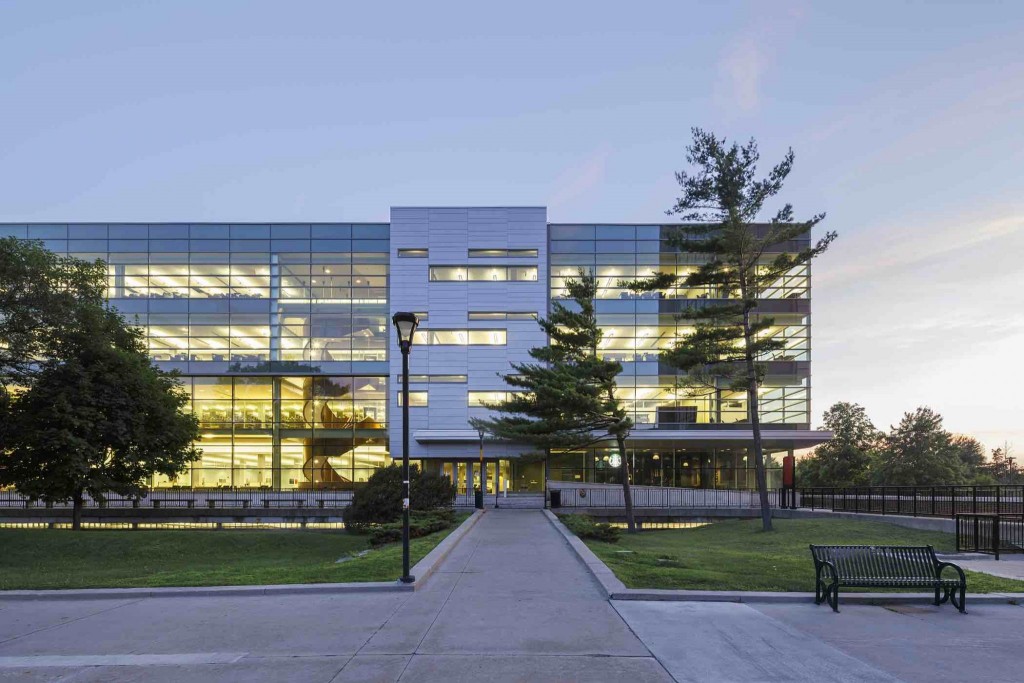 The MacOdrum Library at Carleton University in Ottawa received a 2015 Ontario Library Association (OLA) Library Building Award for its redesign by Diamond Schmitt Architects[2] (DSAI).
DSAI partnered with Edward J. Cuhaci and Associates Architects to renew the 1960s-era building. The architectural team added 6875 m (74,000 sf) of new space and 3252 m (35,000 sf) of renovated area. Nine new reading rooms were added, as well as a helical mahogany staircase. Innovative study features include a video gaming lab, three-dimensional (3-D) printers, interactive study rooms with large, touch screen monitors, and two treadmills with desks attached so students can exercise while they study.
"We are grateful to the OLA for this award," said Sydney Browne, principal at DSAI. "MacOdrum is the only academic library to be recognized by the program this year. We sought to renew its role to provide students with a variety of facilities required for today's interdisciplinary and digitally driven academic programs and also to re-establish the library as a vibrant space at the heart of the campus."
The tri-annual OLA program recognizes architectural and design transformation. The award was presented at the Annual Institute on the Library as Place in Waterloo.
Endnotes:
[Image]: http://www.constructioncanada.net/wp-content/uploads/2015/07/MacOdrum-Library-Exterior.jpg
Diamond Schmitt Architects: http://www.dsai.ca/
Source URL: https://www.constructioncanada.net/ottawa-university-library-wins-design-transformation-award/
---