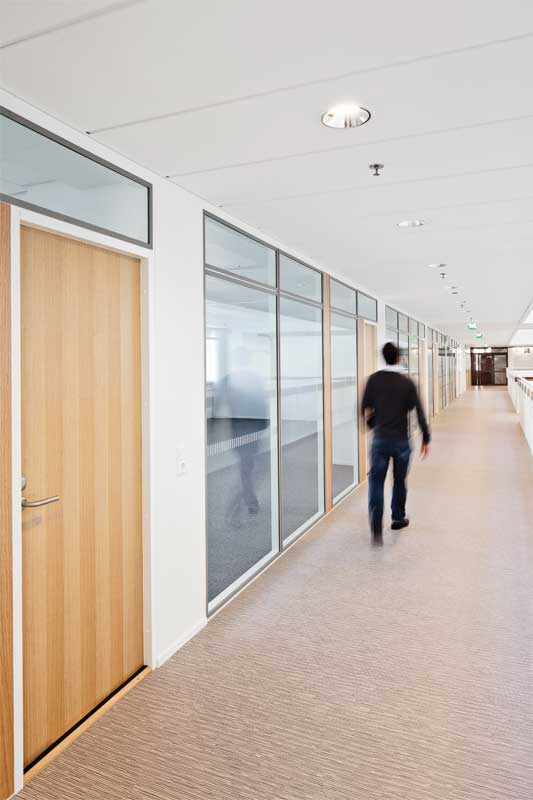 By Gary Madaras, PhD, Assoc. AIA
Every day, people complain about the acoustic environments in the office buildings where they work. This is supported by the Center for the Built Environment at the University of California (UC) Berkeley, which maintains one of the most extensive post-occupancy building survey databases in the world. It reports noise levels and lack of sound privacy are among the factors leading to the most dissatisfaction in offices, and concludes "one of the most important parameters related to overall building satisfaction is satisfaction with noise level." (M. Frontczak led a team in the completion of a study on the quantitative relationships between occupant satisfaction and satisfaction aspects of indoor environmental quality and building design for the Center for the Built Environment at Berkeley in January 2012.)
Studies show 90 per cent of an organization's operating expenses are staff-related, and 62 per cent of the time they need to do quiet work. This means acoustics affect 90 per cent of an organization's resources 62 per cent of the time. (This comes from the World Green Building Council's 2014 publication, "Health, Wellbeing & Productivity in Offices–The next chapter for green building," and BOSTI Associates' 2001 report, "Disproving Widespread Myths About Workplace Design.")
The old way of approaching office acoustics no longer works. This is partly due to the fact office buildings themselves have changed in significant ways. Walls have come down, creating large, open-concept spaces. There is now an abundance of glass and hard-finish floors, and the days of private offices, low ceilings, carpeting, high workstation dividers, and cushy furnishings are mostly gone.
At the same time, there are now stringent acoustic criteria in standards, guidelines, and building rating systems. For example, both the WELL Building Standard and the Leadership in Energy and Environmental Design program (LEED) v4 now require minimum performance levels of sound absorption and sound isolation in office buildings. As these are revised during the coming years, the required amounts of sound absorption and levels of sound blocking are likely to be set even higher, as has happened for other types of buildings such as schools and healthcare facilities. Further revisions seem likely—just four years ago, LEED did not even address office acoustics and the WELL Building Standard did not exist.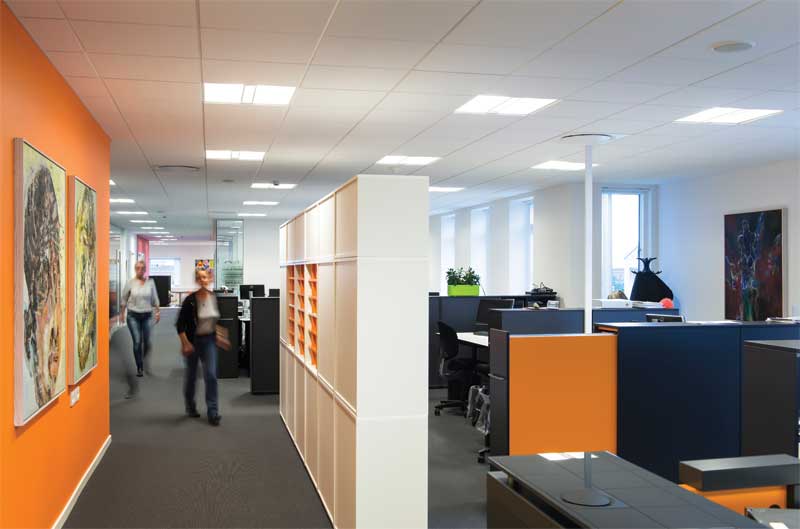 Back in the 1960s, '70s, and '80s, the typical office building layout featured long corridors and enclosed offices around the building's perimeter. Floors were carpeted, and ceilings were low. Acoustical ceiling panels generally had poor sound absorption properties (i.e. a noise reduction co-efficient [NRC] of 0.50 to 0.65). Some conference rooms and boardrooms had decorative or tackable fabric wall surfaces that offered some sound absorption, but this alone was not enough.
To save money, demising walls sometimes stopped at ceiling height instead of extending up to the underside of the floor above. People physically attended meetings behind closed doors, as tele- and online-conferencing technology had not yet been introduced to the mainstream. As technology has changed office work, architectural design trends have led to significantly different spaces, and views on acoustic design should be revamped as well.
First and foremost in optimizing acoustic design is understanding the roles of walls and ceilings. Next, it is crucial to utilize the strengths of these features and avoid their weaknesses.

Control the content you see on ConstructionCanada.net!
Learn More.