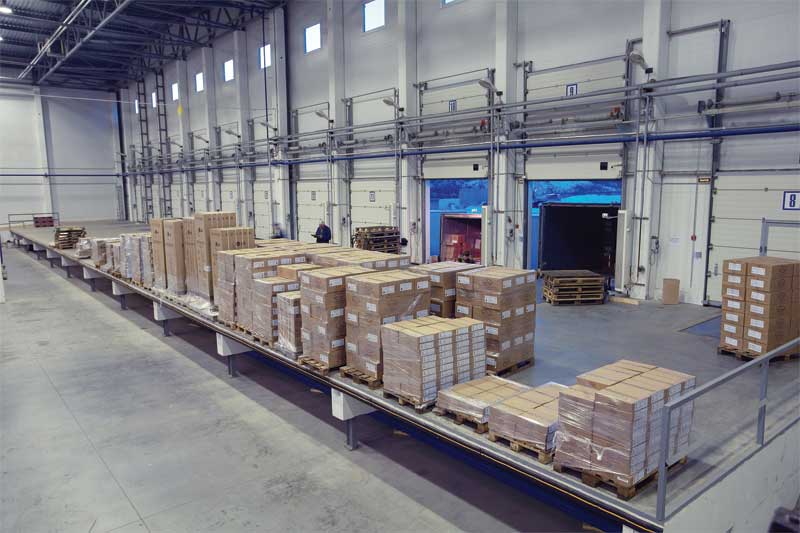 By Jon Schumacher
With today's highly competitive, time-sensitive global economy, the demands on warehouses, distribution centres, and production facilities are more intense than ever before. Productivity and efficiency are at a premium, with the pace of operations at an all-time high. Improvements in industrial technology have allowed many facilities to keep pace with these demands and, in many cases, have pushed the pace to even greater speeds. (For more on high-speed doors see this author's previous Construction Canada article, "Understanding high-speed doors and Industrial Curtains.") It is important for building designers and specifiers to be aware of this ever-increasing pace, and to accommodate for it when selecting products.
High-speed doors are a good example. The most advanced high-speed doors can operate up to 2.5 m (8 ft) per second, and roll-up models use very little wall space because they are upward-acting unit with the curtain collecting in a head assembly at the top of the door when it is opened. By comparison, a rigid-panel door that opens from the centre requires considerable wall space on each side of the door to function. For example, a door spanning a 1.8 m (6 ft) opening requires approximately 0.9 m (3 ft) of wall space on each side so each panel has a place to travel when opened. Roll-up doors reduce the physical footprint necessary in a facility while simultaneously providing quicker cycle times.
Major advances in door design have focused on insulated upward-acting doors. New, technically advanced doors have the ability to withstand forklift impact—minimizing maintenance and downtime while maintaining a tight seal over the life of the door. These 'impactable' doors can re-align on their tracks easily if they are dislodged, ensuring productivity does not take a big hit after the door takes one.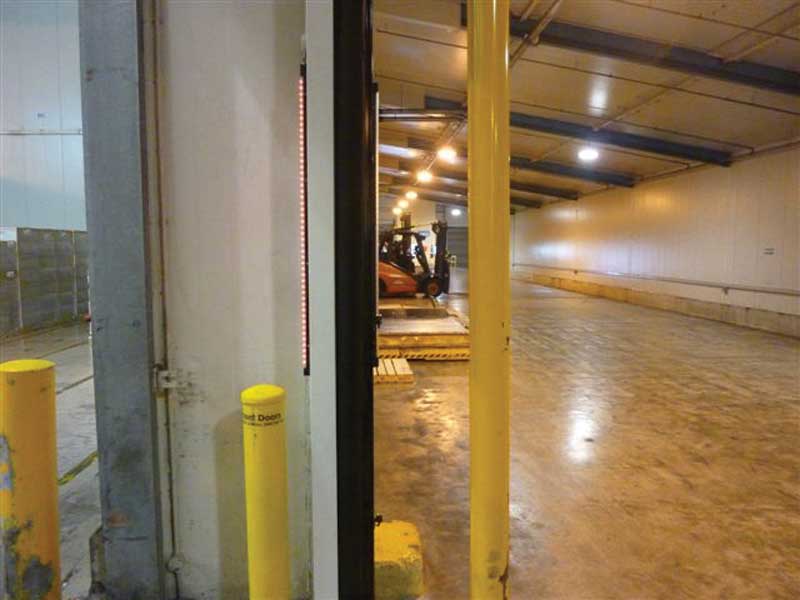 Some door models offer higher R-values (conduction), reducing the need for heated panel defrost systems. Other models offer torque-sensing reversing capability, to help eliminate safety and maintenance concerns with doors using pneumatic or electrical reversing edges for the same purpose. Another safety feature includes use of 'soft-edge' technology to ensure workers are not severely injured, and equipment or products are not damaged, if struck by a door.
However, additional safety devices are just catching up to another potential danger of high-speed doors—collisions in the threshold of a just-opened door.
Blind spots, forklifts, and pedestrians
While some operations can allow for windows or viewing panels in the door, not all do. Not knowing what is on the other side of the door—more specifically, what is moving toward the door—can create a potentially dangerous situation. A forklift with a load approaching a door from one side and a worker entering the same door from the other can be a risky prospect.
The Occupational Health and Safety Council of Ontario (OHSCO) reports there are nearly 800 forklift related incidents in a year—more than two every day. Obviously not all these incidents are caused by blind spots created by doors, but some certainly are.
In Ontario, the average time lost due to forklift incidents is 67 days, according to Workplace Safety and Insurance Board (WSIB) statistics. Forklift accidents are not only a safety issue, but they are also financially damaging. Workers' compensation claims from these incidents cost employers millions of dollars every year, and time is also lost due to accidents halting productivity and slowing operations.
The inherent dangers with operating forklifts caused regulations and guidelines to be put in place. First and foremost, all forklift operators must receive training and be certified. During training, workers will learn to operate forklifts safely and about the proper precautions to take when operating a forklift. In the United States the Occupational Health and Safety Administration (OHSA) advises:
the truck be operated at a speed permitting it to be brought safely to a stop;
the operator slow down and sound the horn at cross aisles and other locations where vision is obstructed; and
the operator look forward and keep a clear view of
the travel path.
These general practices also make sense in Canada, but they are not necessarily followed in every single instance. Additionally, trying to manoeuvre a forklift in tight confines, often under impending deadlines and dealing with a variety of other challenges, can make it difficult to maintain awareness of pedestrians and bystanders.

Control the content you see on ConstructionCanada.net!
Learn More.