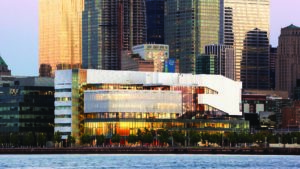 In the wake of Brock Commons' opening in July, another tall wood building is being planned for Canada. George Brown College is moving forward with construction of Ontario's first tall wood institutional building, which will be known as 'the Arbour' and, appropriately, play host to a tall wood building research institute.
The 12-storey structure is planned for George Brown's Waterfront Campus, north of the Daphne Cockwell Centre for Health Sciences, which is certified to Gold under the Leadership in Energy and Environmental Design (LEED) program.
"Waterfront Toronto is pleased to welcome this new carbon-neutral facility to the East Bayfront neighbourhood as another example of sustainable development on Toronto's waterfront that showcases next-generation green building technologies," said Will Fleissig, CEO of Waterfront Toronto. "This facility joins a burgeoning innovation and technology corridor that is fostering creative, knowledge-based jobs and creating opportunities for Canadian innovators and entrepreneurs."
The structure is intended to serve as a learning space for the design and construction of environmentally responsible buildings—both during and after its construction—and as a reflection of the college's commitment to sustainability. It will employ smart building systems to support its carbon-neutral target, and contain a Centre for Information and Computer Technology for the college as well as a new child care facility, in addition to its research space.
"This distinctive new location will help us contribute to the mitigation of climate change and environmental stability while supporting our continued intention to create campus environments that are innovative, creative, and stimulating for student learning," said Anne Sado, the college's president.