Ontario proposes wage rules for construction
by nithya_caleb | April 19, 2018 3:01 pm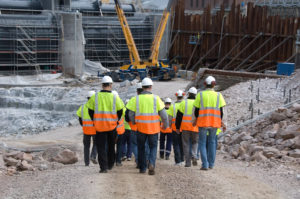 Legislation introduced in mid-April would, if passed, ensure people working in construction, building cleaning or security jobs under contracts with the government will be paid the fair, prevailing wage in those sectors.
The proposed Government Contract Wages Act, 2018, would allow Ontario[2] to establish minimum rates of pay for workers, requiring contractors and subcontractors to pay according to those rates.
"Every worker deserves to be paid a fair wage. And every business bidding for a government contract deserves a fair shot. We are taking action so that employers will not be able to win a competition by unfairly lowering workers' wages," said Kathleen Wynne, Premier of Ontario.
The legislation would build on actions Ontario has already taken to create more opportunity and security for workers. The Fair Workplaces, Better Jobs Act, passed last fall, takes action to protect workers by:
raising the minimum wage to $14 this year and again to $15 next year;
ensuring equal pay for equal work for part-time, casual, and seasonal workers performing substantially the same duties as full-time workers, as of April 1;
creating up to five days of paid leave and up to 17 weeks of unpaid leave for survivors of gender-based violence; and
mandating 10 days of emergency leave for all workers, including two paid days, because no one's job should be at risk if they need to deal with a serious family or personal emergency.
Endnotes:
[Image]: https://www.constructioncanada.net/wp-content/uploads/2018/04/Worker.jpg
Ontario: https://www.ontario.ca/page/government-ontario?_ga=2.144070130.697222280.1524164298-1290907623.1518809639
Source URL: https://www.constructioncanada.net/ontario-proposes-wage-rules-for-construction/
---