Ontario Place is one of the world's most at-risk sites
by sadia_badhon | October 31, 2019 3:09 pm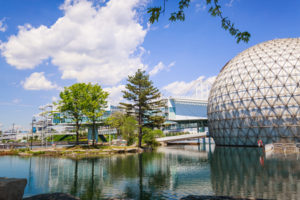 Ontario Place[2], a cultural heritage site that opened in Toronto in 1971, has been added to the World Monument Fund[3]'s (WMF's) watch list for the 25 most at-risk sites in the world.
The list includes structures from around the world needing immediate attention, each site telling a local story carrying global significance, WMF said.
"In the spring, the WMF will also be facilitating $1 million USD in funding that will be given to select sites on the list for conservation initiatives," CTV News[4] reports.
Among others on the list is the Notre Dame Cathedral[5] in Paris, the Bennerley Viaduct in England, and the Tusheti National Park in the United States.
"The 2020 World Monuments Watch calls for an e
nd to top-down decision-making and the embrace of heritage to encourage community dialogue," said WMF. "Through free and public access to the waterfront, Ontario Place can continue to foster interaction and exchange across population groups and fulfil the potential envisioned by its creators."
Endnotes:
[Image]: https://www.constructioncanada.net/wp-content/uploads/2019/01/Opener-16.jpg
Ontario Place: https://www.constructioncanada.net/development-proposals-for-iconic-ontario-place-are-being-accepted/
World Monument Fund: https://www.wmf.org/
CTV News: https://toronto.ctvnews.ca/
Notre Dame Cathedral: https://www.constructioncanada.net/notre-dame-what-was-being-restored-before-the-fire/
Source URL: https://www.constructioncanada.net/ontario-place-is-one-of-the-worlds-most-at-risk-structures/
---