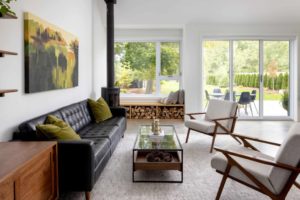 Nestled in the side streets of Windsor, Ontario, near Lake St. Clair, a Scandinavian-influenced 'J' Residence is the work of Dory Azar Architect Inc.
Exemplifying the firm's philosophy of wrapping a home around the clients' lifestyle, the property lies within the 100-year flood plain, as identified by the local conservation authority. The design team worked with the conservation authority to establish a safe elevation at which to build the home.
First, the three volumes were established to encompass their uses. The first volume contains the private areas (i.e., bedrooms and bathrooms). The second contains the entertaining and gathering spaces (i.e., kitchen, living, and dining areas), and the third contains the garage and storage areas. They were further refined to maintain or limit particular views and physical connections between the interior and exterior of the home.
The axis of the private wing of the house is a single loaded corridor that separates the bedrooms and recreational room from the outdoors, providing a visual buffer from the main approach to the home. The corridor terminates with an outdoor patio, which the clients use for reading, drawing, and the occasional impromptu musical performance. The volumes are long and thin to allow natural light, and the concrete floors and light interior colour palette allow the spaces to feel brighter and more open.
The construction methods are vernacular and include standard wood framing, polished concrete floors, and custom millwork. The exterior finishes include vertical white cedar siding and standing seam metal roofs.