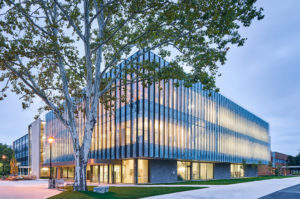 The Ontario Association of Architects (OAA) has announced the winners of its 2020 Design Excellence Awards, as well as the recipients of this year's Service Awards.
The biennial OAA awards program offers Ontario architects an opportunity to present their work to the public and to a professional audience, demonstrating the excellence of both their work and the profession as a whole. This year, the program began requiring energy use intensity (EUI) metrics for all submissions, reflecting that sustainable design is no longer a specialty, but rather a critical component of all building projects as the architecture profession strives for climate stability.
Selecting from 79 eligible submissions, a jury of design and architecture experts chose the 10 winners, using criteria such as creativity, context, sustainability, business, and legacy. Throughout the week of September 14, these projects were featured individually on OAA's YouTube channel with short vignettes to share more about the work involved. Then, a special online voting period began on September 18, with members of the public encouraged to select their personal favourite among the 10 winners. The top selection will receive a People's Choice Award as part of the OAA's Celebration of Excellence.
On October 1, the free, online Celebration of Excellence will also recognize winners of the Design Excellence and Service Awards listed below, as well as reveal the recipients of the Michael V. and Wanda Plachta Award and Lieutenant Governor's Award for Design Excellence in Architecture.
The 2020 OAA Design Excellence Award winners are:
The 'Order of da Vinci' is going to Toon Dreessen for demonstrating exceptional leadership in the profession, education, and/or in the community. The 'Lifetime Design Achievement' recognition, awarded to an architect with a career-long commitment to the promotion and achievement of architectural design excellence, will be given to Blanche Lemco van Ginkel. The 'G. Randy Roberts Service Award,' given to an OAA member providing extraordinary service to the membership, for 'behind-the-scenes' dedication and action, as well as employing the skills and the energy to get things done, will go to Joe Lobko. The 'Best Emerging Practice' award, given to a firm in practice for five years or fewer that demonstrates a clear vision, well-articulated goals, and proven effective strategies that provide a competitive advantage, will go to Office Ou.