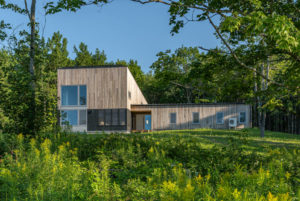 Habit Studio, a residential home design firm in Nova Scotia, has completed their latest project. Two Rocks is a 418-m2 (4500-sf) net-zero passive house, overlooking green Gaspereau Valley farmland with well-insulated and controlled enclosures.
The Two Rocks house project is organized in two wings, with the public spaces opening to the big valley views and the private spaces focused into the woods.
This structure is insulated and airtight. The windows are European-made, triple-paned, aluminum-clad wood windows from Vetta. The floor slabs have an insulation R-value of R-43. The walls are R-50 and the roof is R-82. A 26-kilowatt photovoltaic array covering the south-facing half of the roof powers the house. Fresh air is provided via high-efficiency energy recovery ventilators (ERVs) which handle humidity and heat recovery. The heat pump hot water is 2.5 to three times more efficient than a conventional hot water tank, and the installed ERVs are approximately 15 per cent more efficient than code minimum heat recovery ventilators (HRVs).
The exterior palette was designed as a complement to the varied colours and patterns of the meadow. The walls are clad in pine planks with charred cedar accents. The standing seam metal roof was designed to withstand intense Nova Scotia weather.
The floors are polished concrete and clear whitewashed maple. Maple is also used as the stair finish, and the stair walls are lined with maple veneer. Raw steel beams support the loft floor structure, and the loft railings are also steel. The main living space walls are white, as the oversized windows allow the landscape to provide colour in this home.