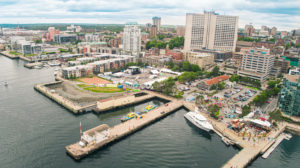 Three finalists have been selected from an international design competition for the new Art Gallery of Nova Scotia and vibrant public space on the Halifax Waterfront.
The three finalists include:
These teams were selected from 46 applications, which came in from many corners of the globe. When evaluating the submissions, the review committee considered each team's vision for the new art gallery, their demonstrated team experience and qualifications of key personnel, and the team's approach to the project.
Final conceptual designs will be due in September and will be available for public viewing and engagement before the winning team is selected by a qualified jury of professionals. The new art gallery will provide access to art, culture, world-class exhibitions, events, and programming for all Nova Scotians and visitors to the province.