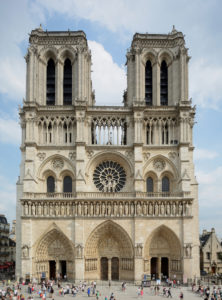 In the aftermath of the massive fire that destroyed much of the iconic Notre Dame Cathedral in Paris earlier this month, France's Prime Minister Édouard Philippe announced an international architectural competition to redesign the roofline and collapsed spire. Several architects and designers from all over the world have come up with proposals to reconstruct the Gothic church. Here are some of them.
Studio NAB has envisioned an educational greenhouse spanning over the entire roof allowing the cathedral to embrace and become part of environmental, educational, and social integration. Additionally, the destroyed spire is reimagined as an apiary, housing a large number of beehives and becoming the heart of the concept. The burnt oak framework, nicknamed 'the forest,' will be reused to create all the planters and facilities in the greenhouse. The roof cover is imagined in a gold-tone steel structure and filled with glass panels, all respecting the initial sequencing of the roofs, reports Designboom.
Foster + Partners has joined a series of design offices that will enter the competition to design a replacement spire for the cathedral. As reported by the Times, Foster has proposed a glass and steel replacement that will be 'light and airy' for the cathedral's ruined roof.
Dutch office Concr3de proposes to use 3D printing to rebuild parts of Notre Dame using the fallen wood and stone as material and thus keeping the layered history of the church visible. Proposing to combine old materials and new technologies, the company suggests to take the rubble and turn it into a "new stone of Paris," made of the ash, the dust, and damaged stone. The 3D-printable powder, which would have the color of the Parisian stone yellowish gray, mixed with the charred remains of the wood, could be used together with existing 3D scans of the church, to directly 3D-print the lost parts of the cathedral, according to Designboom.